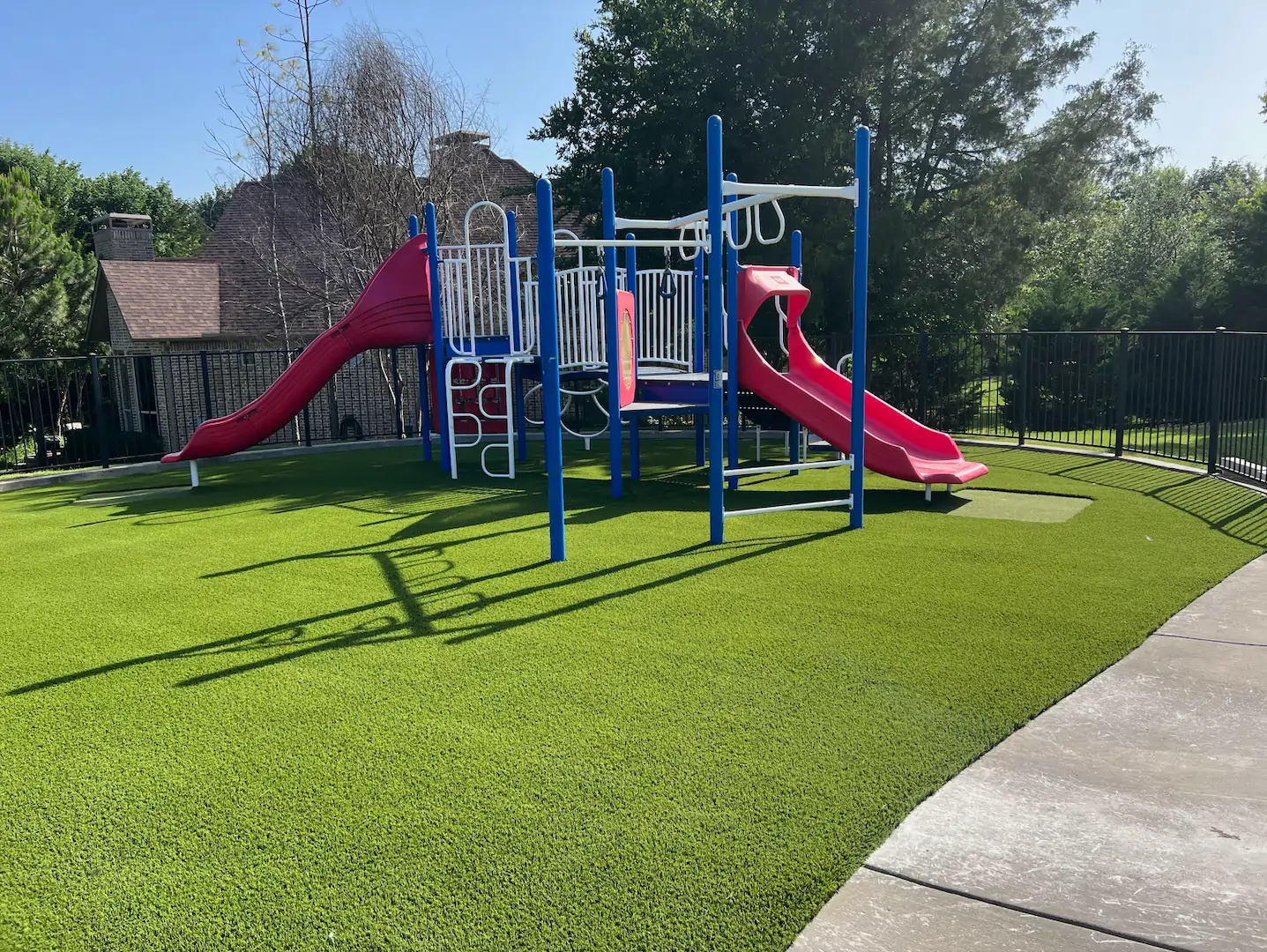 Tampa playground turf is perfect for residential installation because, when it comes to playtime, your child's safety should never be in question. At SYNLawn, safety is our highest priori. We provide backyard play areas with synthetic grass that meets the highest commercial safety standards to ensure that your children can avoid injuries during playtime. In addition, Tampa playground grass was designed to last a lifetime without conventional maintenance. This means that year-round, you can enjoy a gorgeous green lawn that will save you time and money while contributing to a positive environmental impact.
SYNLawn Tampa playground grass offers a list of exclusive benefits that include, but are not limited to:
Unmatched lifetime warranty
High-tech FallPad® cushioning technology can be added for additional shock absorption
The exclusive EnviroLoc+™ plant-based backing system prevents shedding, shifting, and tearing as well as provides unmatched drainage capabilities
HeatBlock™ technology keeps surface temperatures up to 20% cooler year-round and won't burn children's feet or pets' paws
Envirofill® antimicrobial infill helps to eliminate and prevent stains and odors caused by bacteria from pet waste
Super Yarn™ turf yarn formula includes antibacterial enhancements, antistatic, and infrared reflectivity to help provide cooler surfaces and support the integrity of turf fibers in direct sun
Soft synthetic grass fibers that are non-abrasive to the skin
Drains up to 1,200 inches per hour; no more muddy lawn spaces
Hypo-allergenic
Made in the USA
Safety Benefits of Tampa, FL Playground Grass
To keep your children safe so that they can enjoy the backyard to its full potential, we've imbued more than 50 years of research and development into Tampa playground turf. As a result, we have created a wide variety of innovations that are exclusive to SYNLawn, such as the EnviroLoc+ backing system, Super Yarn technology, HeatBlock technology, TrampleZones, and more.
SYNLawn was the first to recognize the need for IPEMA-certified playground surfaces. We offer slip-resistant and nonabrasive surfaces that meet proper fall height attenuations. We independently laboratory test Tampa playground grass to ensure that it will cushion falls up to ten feet. Additionally, no one has to miss out on playtime since our turf is ADA-compliant, wheelchair accessible, and will not shift or bunch up on impact. Our turf creates a lush, soft, and ultra-realistic playing environment while removing choking risks and other potentially hazardous surfaces. In the summer, there will be no more unpleasant or hazardous playground materials such as pebbles, pea gravel, wood chips, sand, or rubber, which can generate gradually heated surface temperatures. These materials are abrasive to the skin, causing small injuries and abrasions that can lead to infections.
Additionally, SYNLawn offers additional TrampleZones®. These proprietary turf pads are designed to be installed beneath swings, jungle gyms, and playground equipment in high-traffic areas. TrampleZones increase safety and are ideal for areas that are in need of increased durability. Trample Zones can offer long-term safety advantages by being easily changed after a few years of rigorous use, in addition to our unmatched lifetime warranty.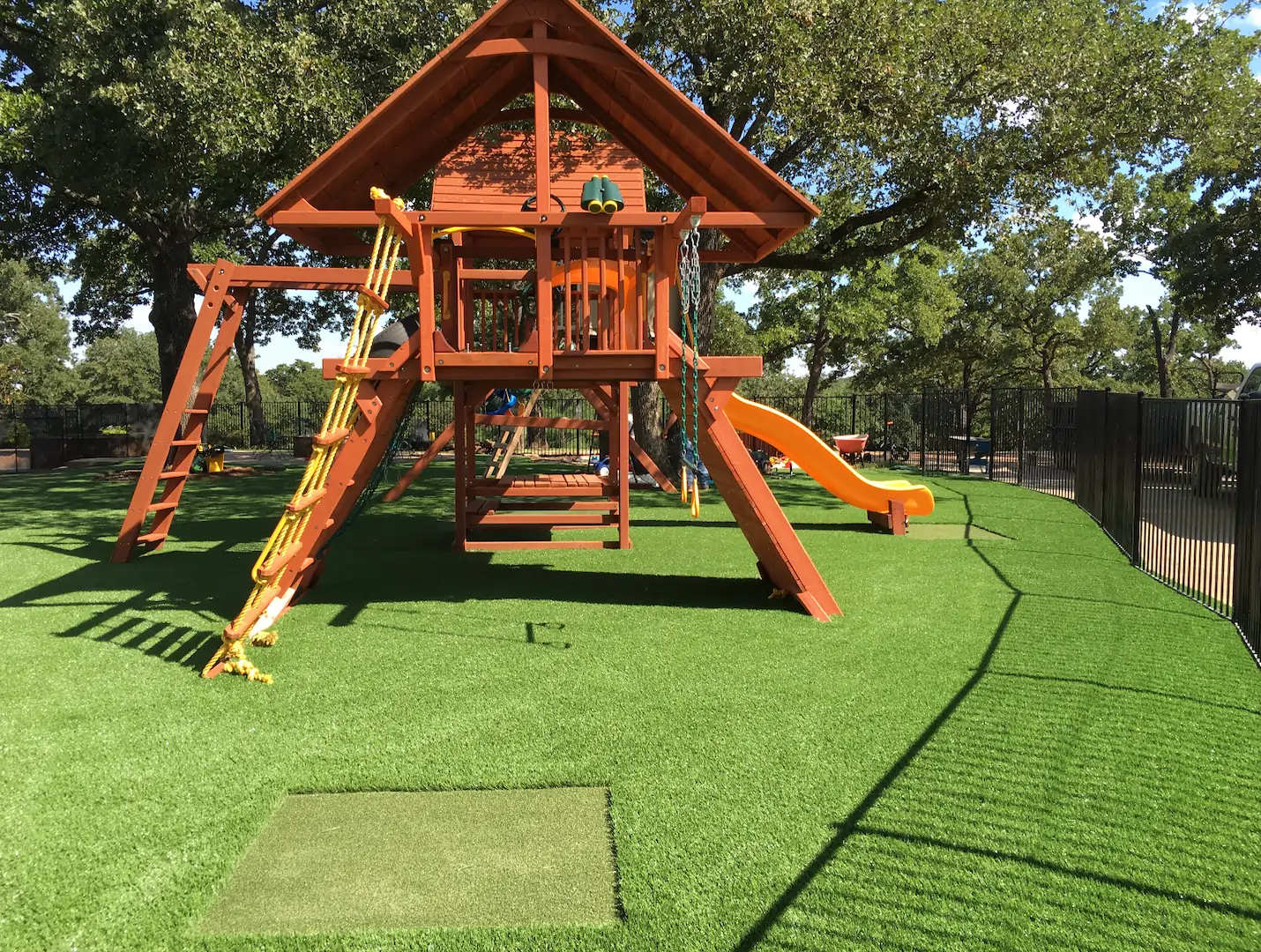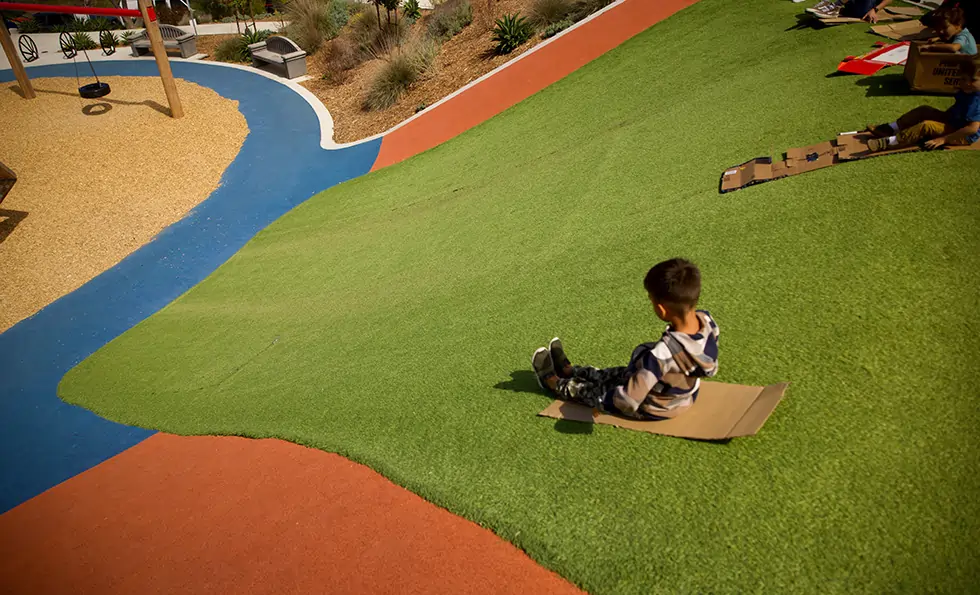 The Cleanest Playground Turf in Tampa, FL
To keep your children clean and away from infections, we include options to combat germs. Inside the DNA of Super Yarn™ technology is the highly effective Sanitized® antimicrobial. Sanitized® actively eliminates up to 99% of bacteria found on turf surfaces. Sanitized® can also be found on our EnviroLoc+™ backing system, which offers a drainage rate of up to 1,200 per hour. This also prevents algae and fungal growth, which can aggravate respiratory systems.