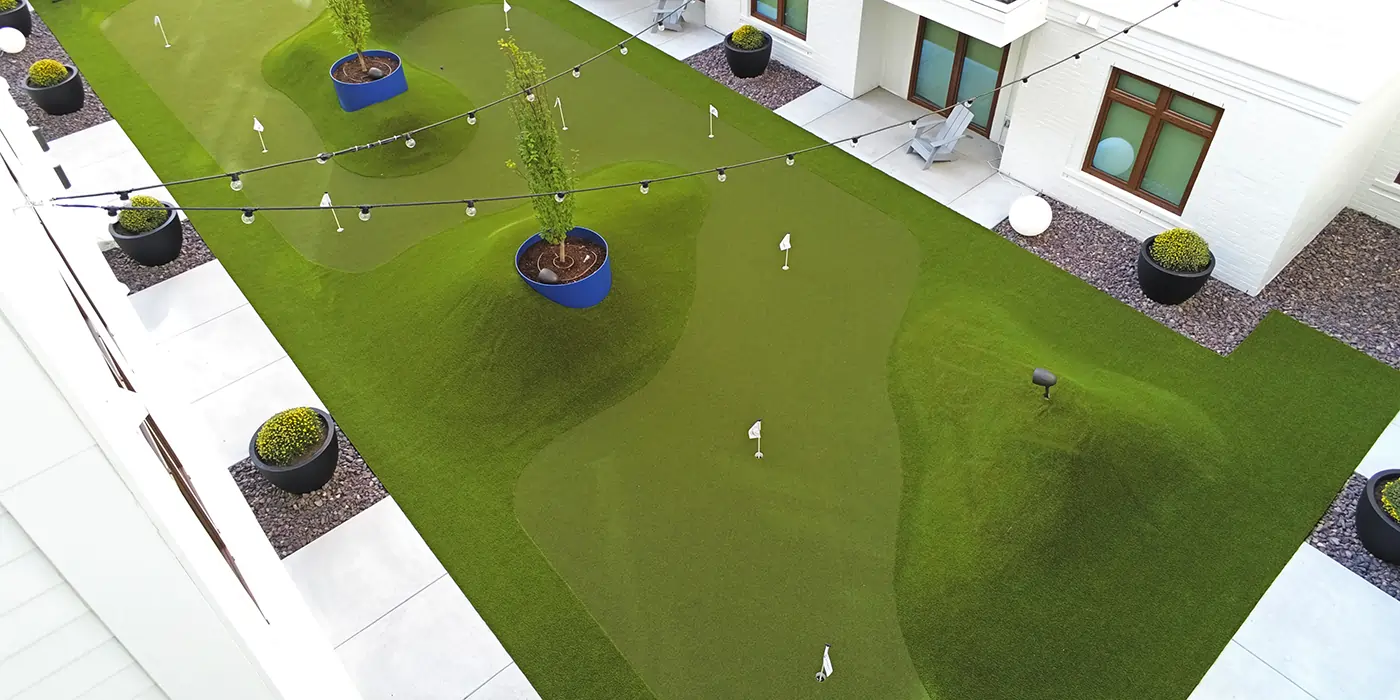 SYNLawn manufactures and installs the highest quality and longest-lasting Tampa golf greens designed for PGA-level performance. We believe that professional-grade performance can last year-round for many years to come without the need for traditional maintenance. Proudly, we work in partnership with legendary golf coach and ex-NASA physicist Dave Pelz to create golf greens that mimic the appearance and behavior of natural grass as closely as possible. Tampa golf turf offers professional performance that you would expect from your favorite courses and is instilled with more than 50 years of research and development. SYNLawn Tampa putting green turf is perfect for all games and skill levels and is the perfect amenity to increase your business's property value and curb appeal.
Commercial properties rely on our golf grass thanks to its ability to perform through rain or shine, cut water bills, and give you back your time to focus on your customers and services.
Tampa golf turf benefits include, but are not limited to:
Realistic putt with natural slowing characteristics and highly accurate ball roll
Converts underutilized areas into something more usable, fun, and interesting
Excellent for entertaining family and friends, as well as teaching children
Made in the United States using the best quality artificial grass Tampa has to offer
One-inch-thick practice surfaces that allow you to use a real golf tee
The professionally installed T-Strike lets you make a complete swing without grabbing the club head
Effective drains in each cup prevent backfill of water and mold
Extremely durable golf surfaces to allow for chipping practice
Improve your performance and reduce your scores in the short game
Select from different turf options for your fairway, fringe, collar, and more
Customizable with obstacles to increasing the challenge
Add sand traps, tee lines, tee boxes, slopes, and more
Our commercial golf turf is perfect for both indoor and outdoor installations. Golf's popularity is always on the rise, and we make it easy for businesses to design their own mini-golf course, full-sized course, or portable option for use at any moment. Our greens are weather-independent, drain at a rate of up to 1,200 inches per hour, and will not shed or tear.
GreenMaster™ Certified Installation
At SYNLawn Tampa, our pro-grade putting greens can only be installed by those who have received their GreenMaster certification. GreenMaster installers undergo regular training on a to guarantee that our high standards of quality and precision are maintained for every installation. From smoothing off your surface to installing every square inch with care to avoid seams, we strive for perfection every time. If you don't love it, we don't either. We aim to effortlessly integrate our golf greens into your existing landscape so that it looks like it has been there for a lifetime and once the installation is complete, it will do exactly that!
Eco-Friendly Golf Greens in Tampa, FL
SYNLawn is dedicated to protecting the environment. That is why we take every opportunity to discover new ways to promote environmental sustainability through our synthetic turf. This includes our Tampa golf turf. To do so, we have continued to grow our relationship with American farmers. With their help, we offer the only plant-based putting green turf on the market today. We make this possible by replacing harmful components with sugar cane and soybean oil. These components are what increase the longevity of your installation, conserve valuable resources, and ensure the professional performance you are looking for.