SYNLawn has more than two decades of experience installing commercial artificial grass in Tampa, FL. We are fully licensed, bonded, and insured to work on multi-million-dollar projects from start to finish and provide the highest quality artificial turf Tampa has to offer. We make it possible for all commercial properties to achieve their landscape dreams with affordable payment plans that will accommodate all budget types. SYNLawn is the number one provider of synthetic grass because of our elite customer service and meticulous installations.
Applications include, but are not limited to:
Landscapes
Retail shopping
Spas & pools
Hospitality facilities
Sports & multipurpose facilities
Commercial dog parks
Hotels
Apartment complexes
Putting greens & golf courses
Schools & school districts
Playgrounds & much more
Professional Artificial Grass Installers in Tampa, FL
Even though SYNLawn produces the most realistic and long-lasting artificial turf on the market, we understand how crucial it is to offer an equivalent level of installation. Every square inch of your luxury lawn will be expertly installed by our team of skilled technicians. They are committed to avoiding seams and incorrect flow by placing each piece in the same direction for the most realistic appearance. This stage is frequently skipped and detracts from the ultra-realistic appearance and characteristics of synthetic turf.
Smooth ground is the first step in our synthetic turf installation process. It is crucial to offer a base free of pebbles and other flaws that might disturb your environment and result in injury if tripped over. To guarantee that your Tampa artificial grass installation lasts a lifetime, SYNLawn only uses the best materials. You will be happy when you see that your lawn blends seamlessly with the existing elements of your company's or commercial landscaping after installation is complete. This will significantly raise the value of your property while enhancing the outstanding first impression that your storefront will make on both potential and current consumers.
Did you know that installing SYNLawn Tampa synthetic grass can help you obtain LEED credits? By doing away with lawn irrigation systems, SYNLawn allows you to save tens of thousands of gallons of water each year. Additionally, due to our synthetic turf being made from plant materials and designed to be recyclable, you gain LEED points for using sustainable resources.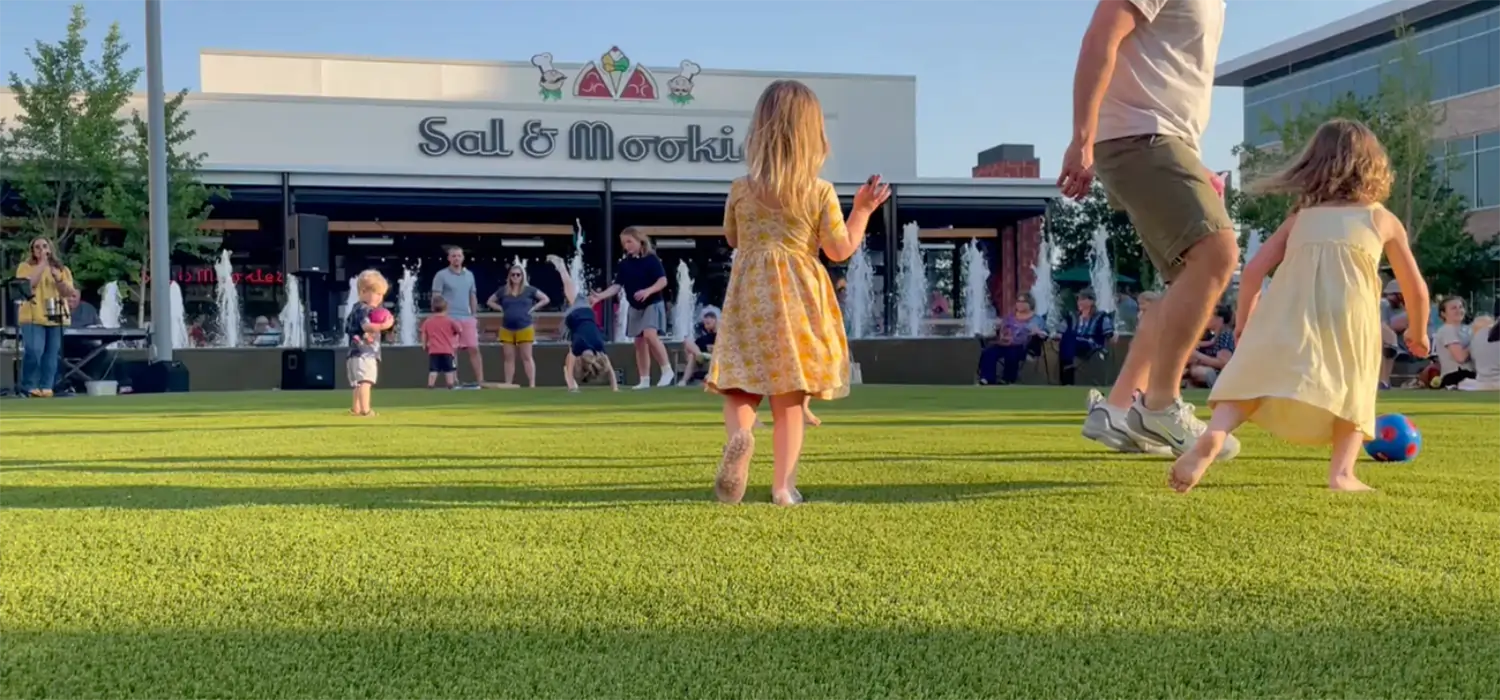 Commercial Safety Standards
Safety is essential when designing any commercial landscape. Regardless of your application, it is important to do all that you can to ensure that your customers are not in danger when they come to shop or enjoy your attractions. Fortunately, Tampa artificial turf meets commercial safety standards. We provide slip-resistant surfaces that are IPEMA-certified as well as CSA, ADA, and HIC-compliant. With SYNLawn turf, you, your employees, and your guests will be protected against common injuries and falls up to 10 feet.
Additionally, if you are looking for a surface that is going to keep you safe from fires, SYNLawn offers a growing collection of Class A fire-rated artificial grass that is proven to help prevent the spread of fires. This means that your installation will act as a barrier between your property and guests. In 2016, the roof of the Cosmopolitan Hotel in Las Vegas caught fire and quickly caused panic. Fortunately, the rooftop was installed with SYNRye 200, a variety of our turf. Instead of serving as fuel for the fire, it melted and blackened, giving first responders more time to arrive and preventing both major property damage and life-threatening injuries.