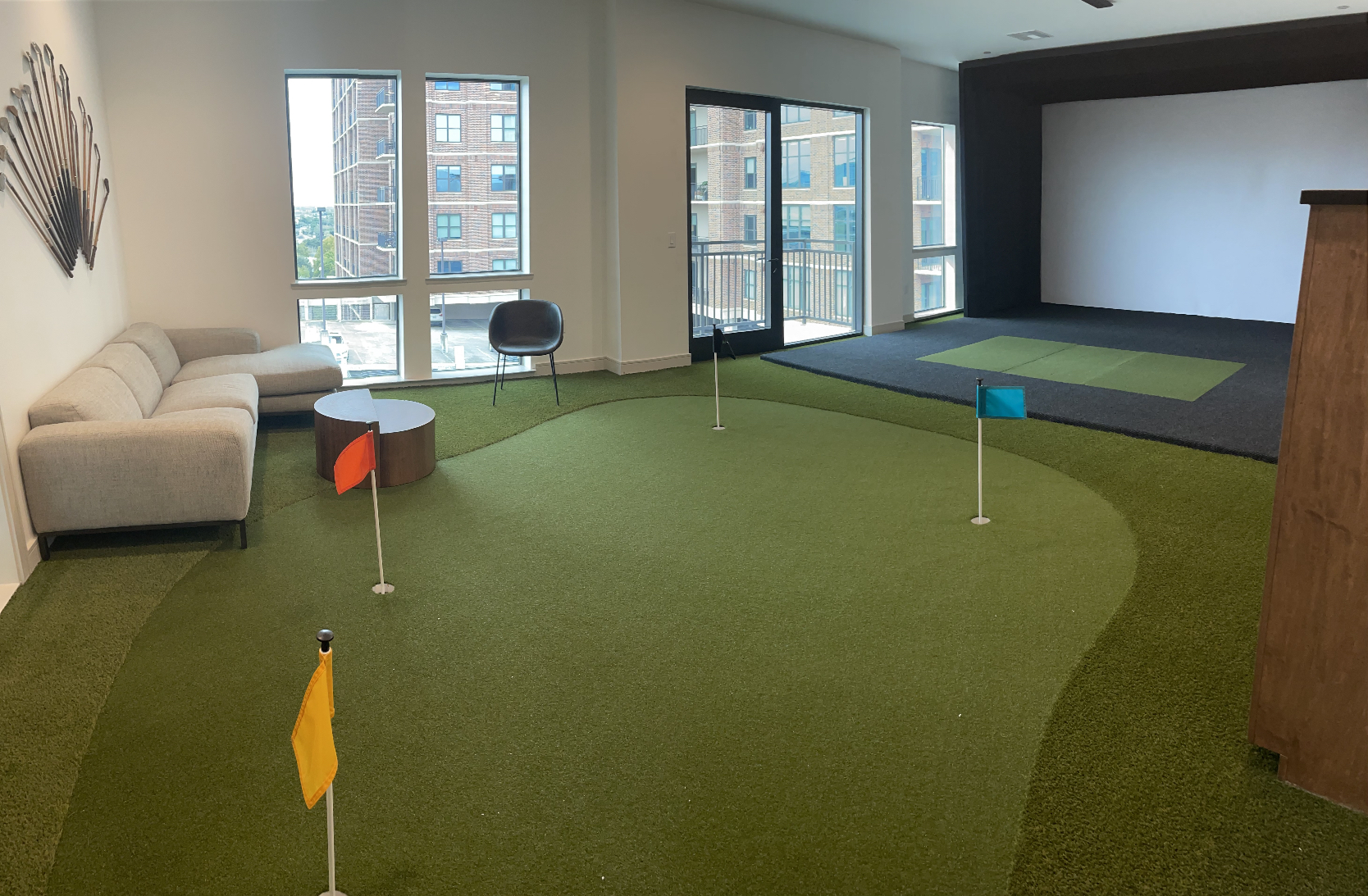 Along with the rising popularity of golf, there is an interest in indoor putting green installation in Tampa, FL. SYNLawn is bringing professional-grade golf greens to you that are perfect for both residential and commercial indoor installations. Today, there are many businesses that include putting greens as an attraction or a way to unwind and take a break. They are also perfect for at-home practice in your basement, living room, and more.
PGA-Caliber Performance Indoors
Gone are the days of cheap one-hole plastic putting greens. SYNLawn provides state-of-the-art putting greens that replicate the appearance, behavior, and feeling of natural grass as closely as possible. This is thanks to our partnership with professional golf coach and ex-NASA physicist Dave Pelz.
One-inch-thick practice surfaces that allow you to use a real golf tee, great for indoor golf simulators
Superior durability to practice putting, chipping, and flop shots
The professionally installed T-Strike lets you make a complete swing without grabbing the club head
Select from different turf options for your fairway, fringe, collar and more
Customizable with obstacles to increasing the challenge
Only SYNLawn GreenMaster® certified technicians can install our golf greens
100% nylon fibers provide long-lasting durability and vibrance
No bumpy seems to interfere with your putt
UV protection to prevent color fading when placed near windows
Custom designs for all skill levels, budgets, and indoor spaces
Portable putting green options
No maintenance costs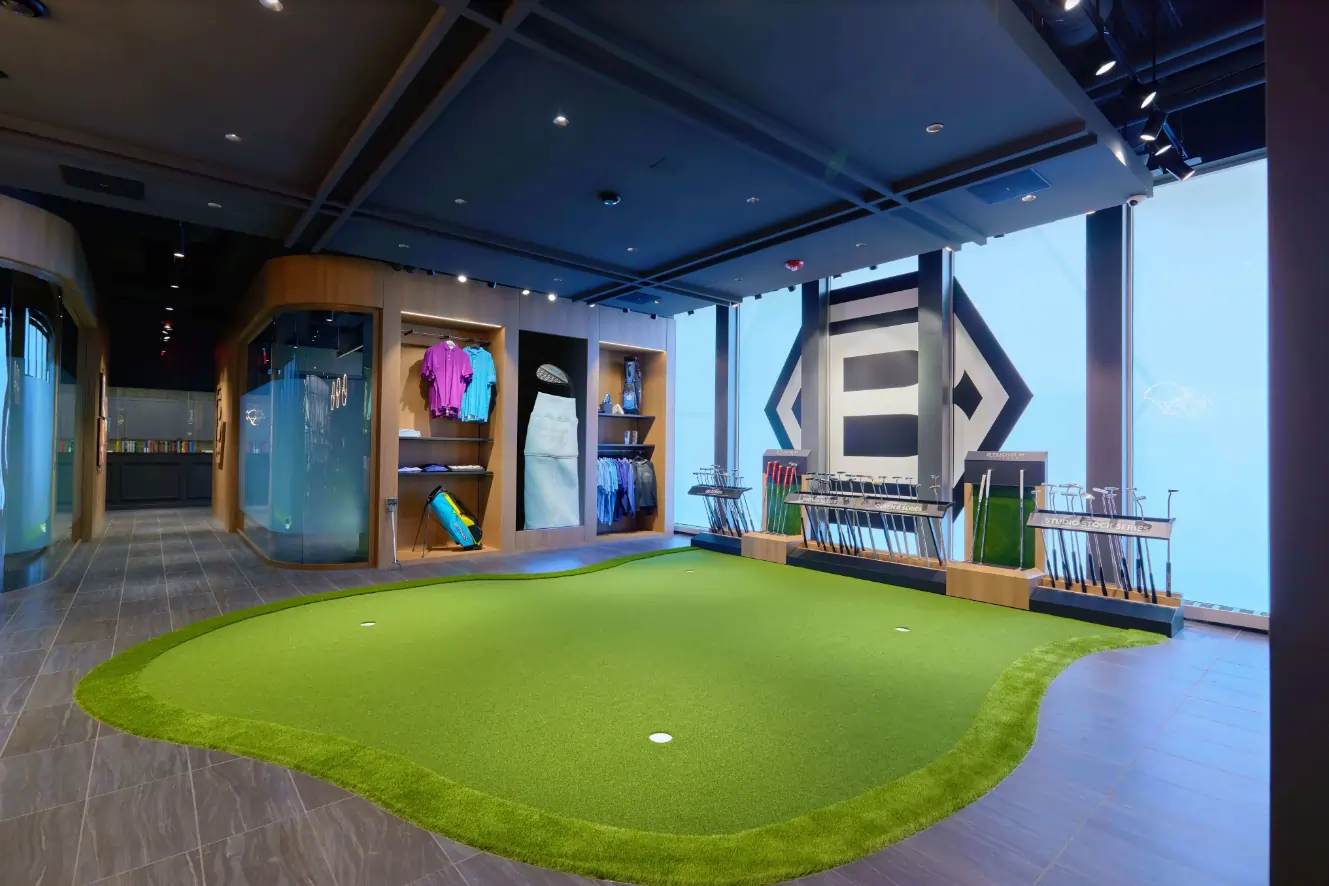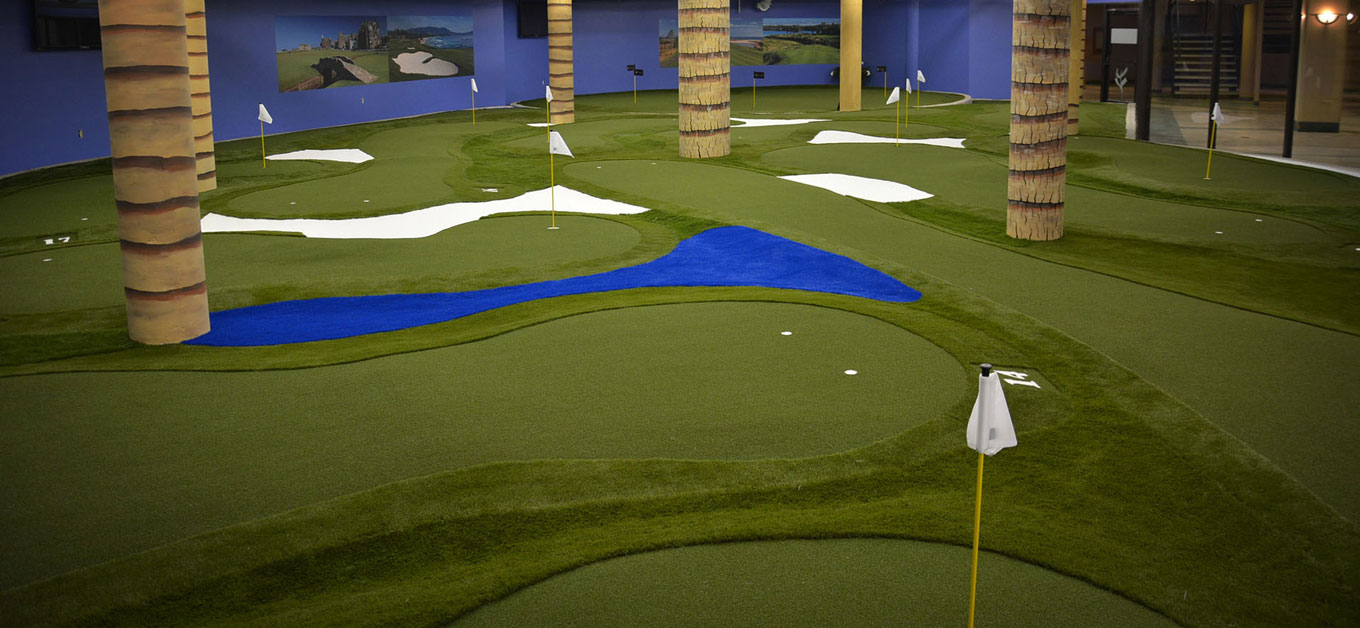 Low-Maintenance Tampa, FL Putting Green Turf
Many of the advantages of Tampa artificial turf are also present in indoor putting greens, making them ideal for indoor play. It is not necessary to mow, water, or fertilize synthetic golf grass on a to maintain a lush green putting surface. This enables our clients to play golf throughout the year using artificial grass alternatives. You can play golf easily and quickly in your spare room, basement, living room, employee lounge, indoor mini golf course and more, even when the weather outside is erratic.
Commercial Indoor Putting Green Installation
Do you want to add a putting green to your employee lounge or create an indoor mini-golf course for your company? What better way to unwind from the office or raise team morale than with an indoor putting green? We provide a variety of portable solutions with the same incredibly lifelike performance and aesthetic. A custom putting green is a great spot to increase productivity because so many of us do our finest thinking there due to its peaceful and quiet atmosphere.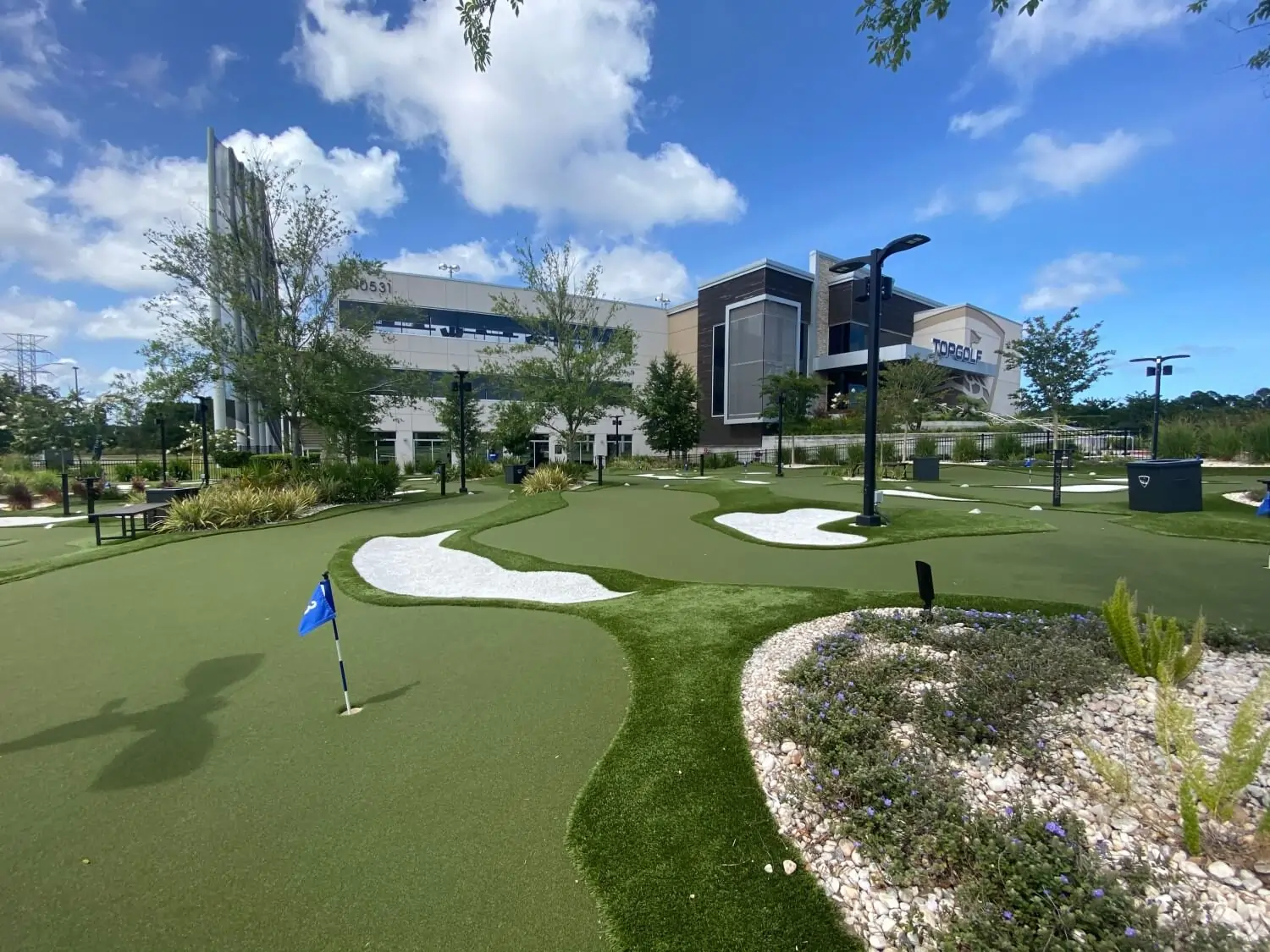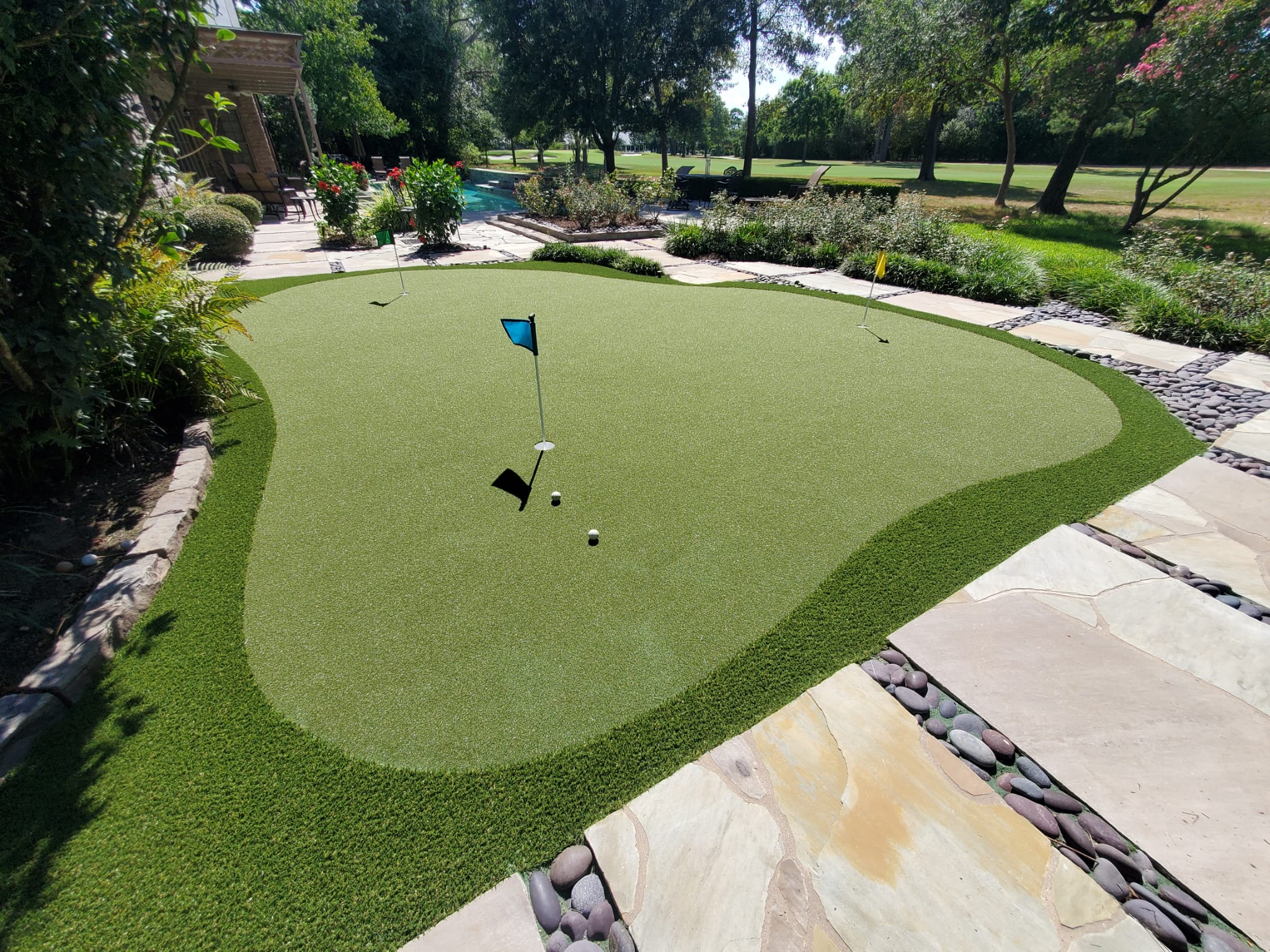 Eco-Friendly Tampa Golf Greens
As part of routine maintenance, natural grass golf courses employ chemicals including fertilizers, insecticides, herbicides, and more. These can be dangerous to kids, animals, and the air we breathe while playing golf. Fortunately, these are not requirements for our golf greens. Tampa golf turf is manufactured locally in the USA with the help of American soy farmers. We have been collaborating closely with them since 2008, to replace harmful materials and components with sustainable soybeans and sugar cane. SYNLawn golf grass can be recycled, greatly decreases carbon emissions, and saves thousands of gallons of water annually.
Fully Customizable Indoor Putting Greens
We highly encourage you to customize your indoor putting green to your own unique specifications. We offer a variety of options for the fringe, fairway, and rough areas of your golf course. Additionally, we can include obstacles such as slopes, sand traps, and bunkers for increased challenge. Furthermore, we offer the ability to install LED lights to add personal flair to indoor venues that are low-lit and feature a fun atmosphere or a bar!