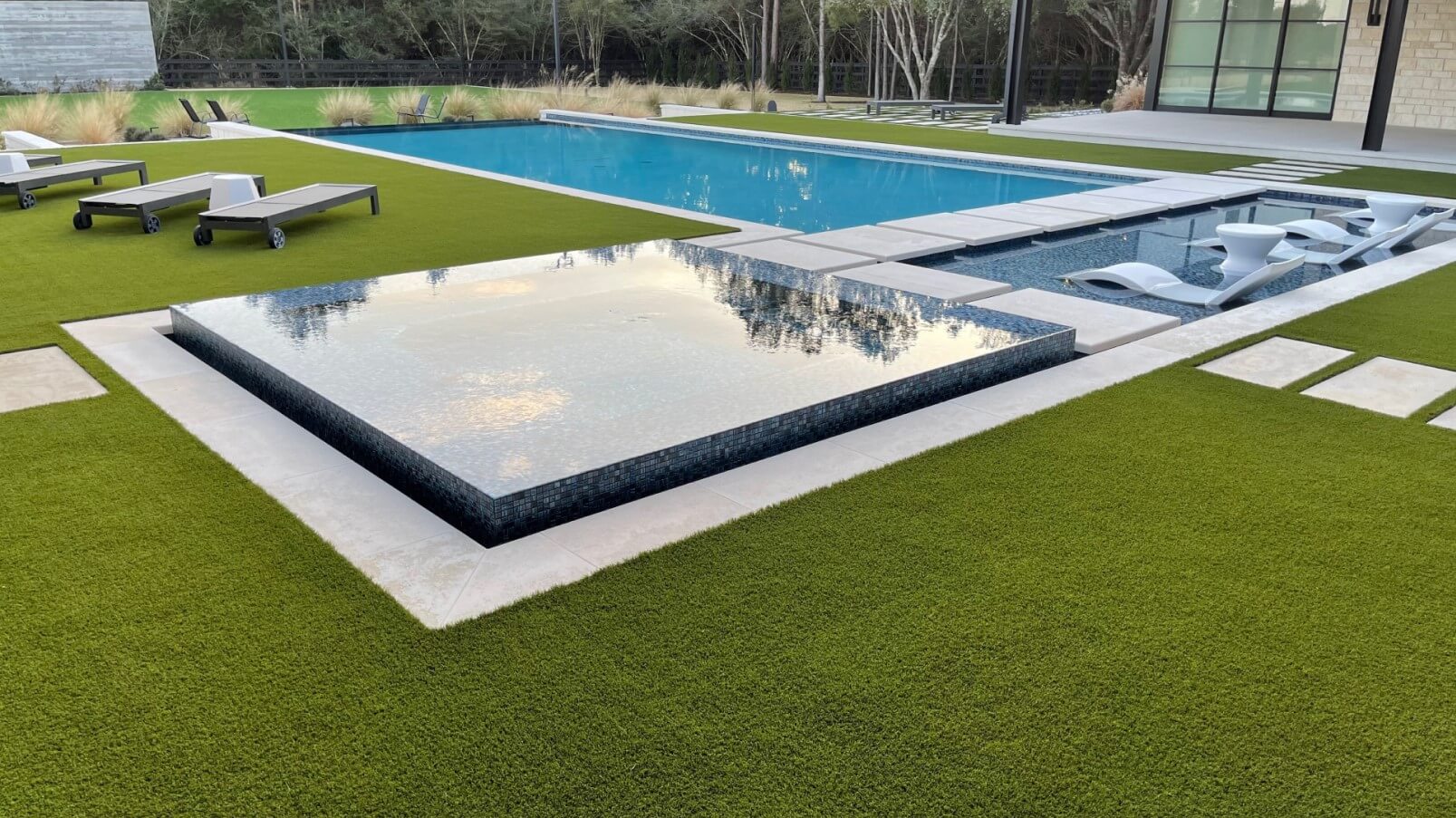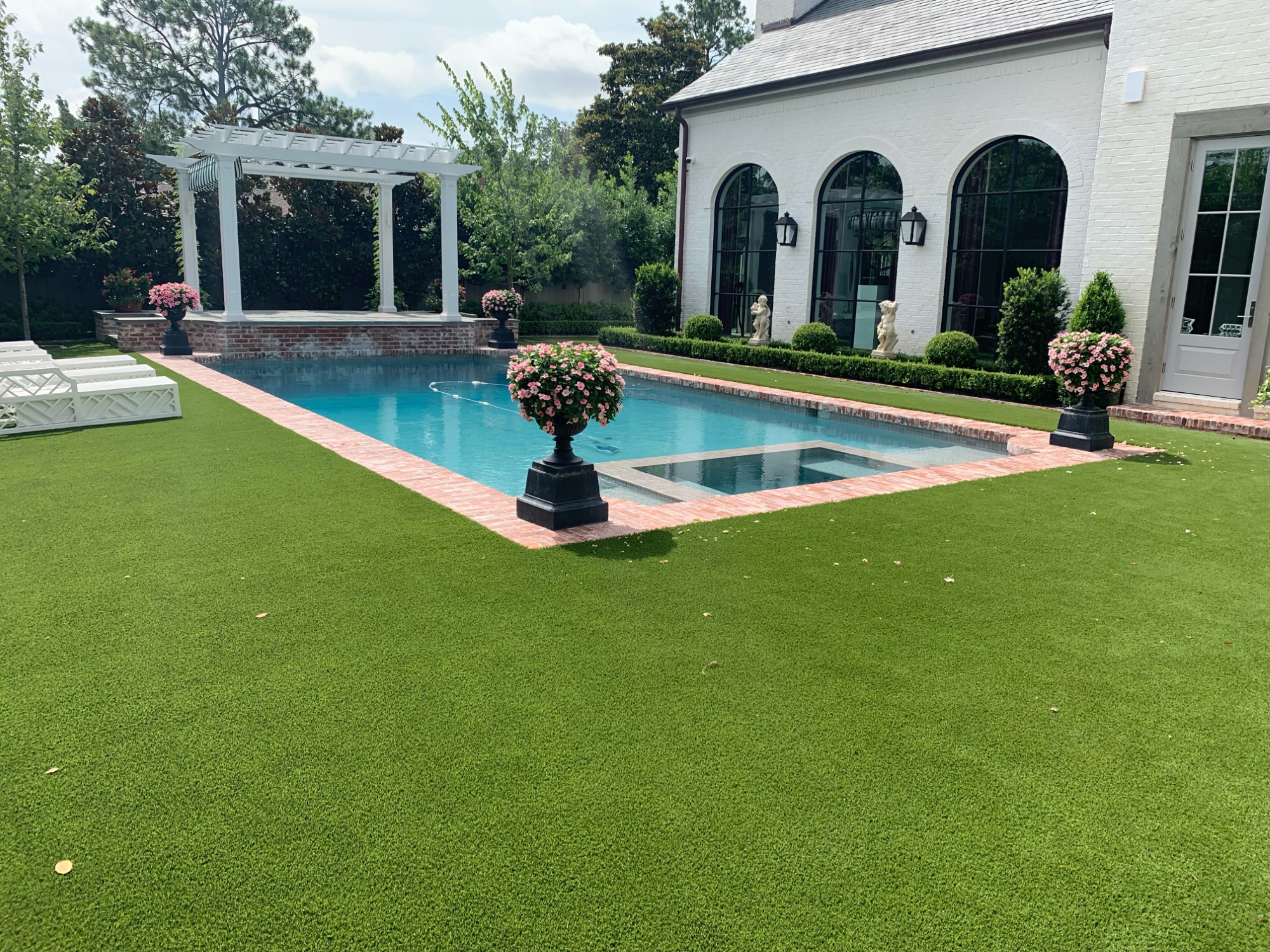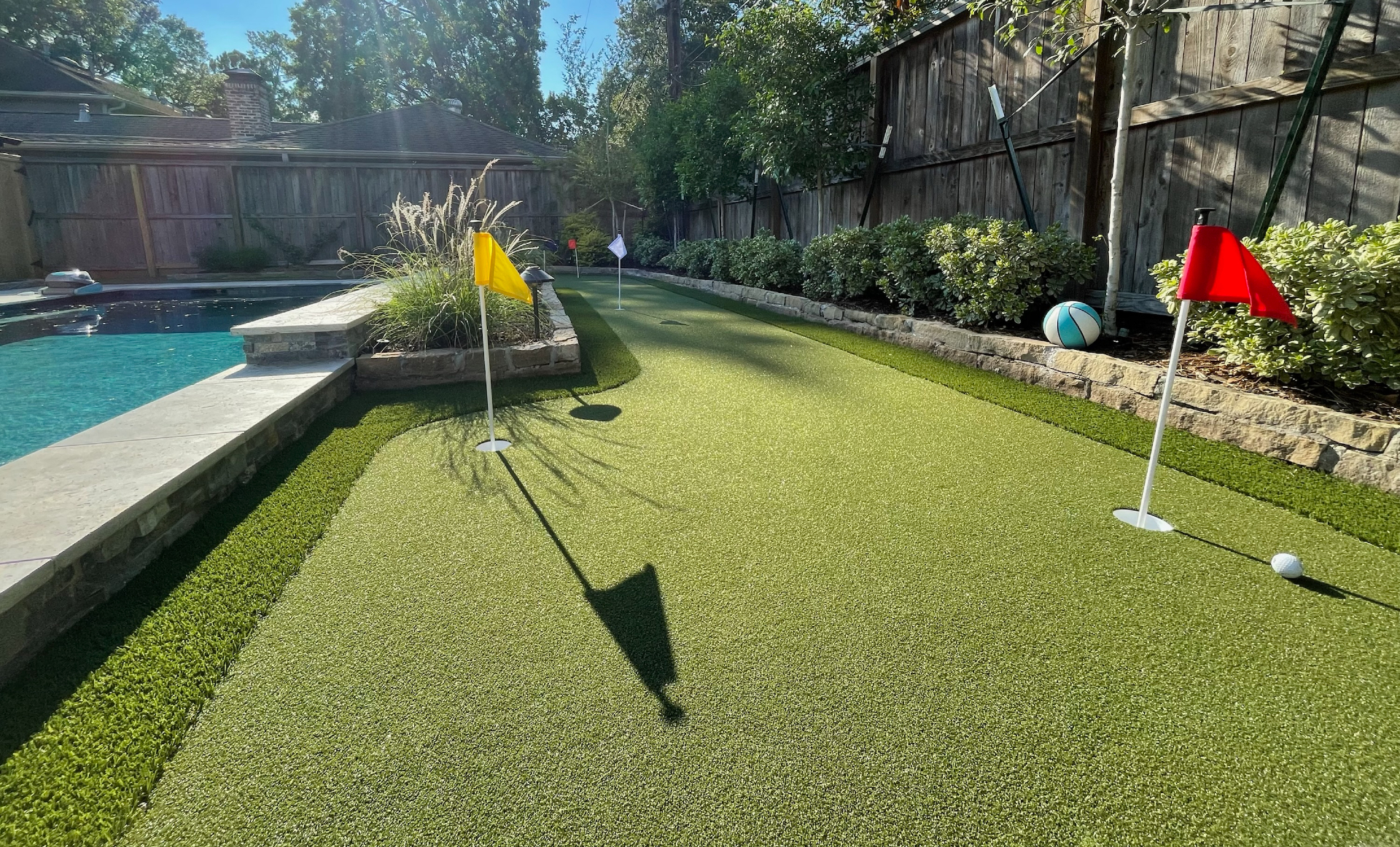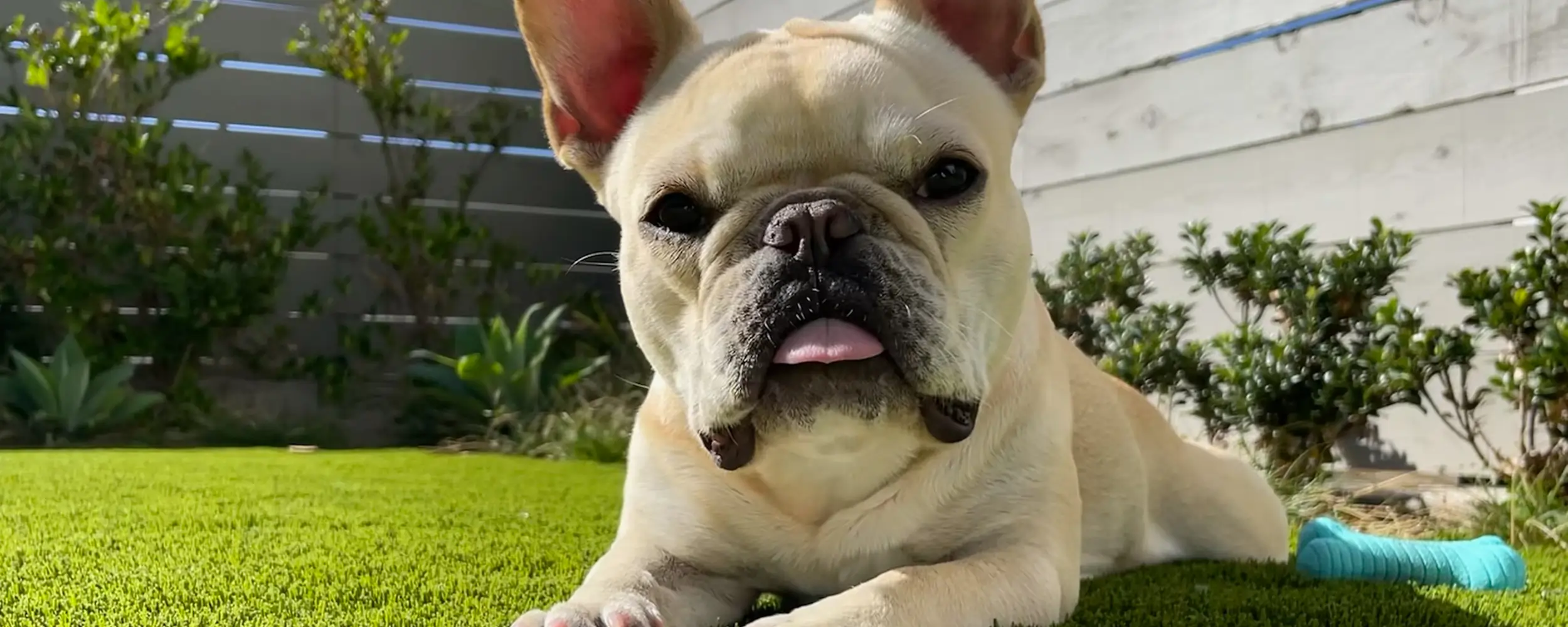 Residential
Residential Lawns
Lush, Evergreen, and Low-Maintenance
Transform your residential property in Tampa with a consistently beautiful, low-maintenance artificial grass lawn. Our stellar synthetic turf is ideal for residences of all kinds, including homes, estates, and more. Find out more about it today!
Commercial
Commercial
Consistent, Cost-Effective Lawns & Landscaping
Don't rely on unpredictable sod for your commercial lawn or landscaping! Gain a surface you can trust with our consistently green and cost-effective commercial artificial grass instead – ideal for lawns, landscaping, and more!
Putting
Putting Greens
Highly Playable Golf Surfacing
Take your golf game to the next level with our specially designed artificial grass putting greens! Our highly playable synthetic golf turf provides a fully-optimized and low-maintenance surface for players of all skill levels. It is perfect for backyards, commercial properties, and more!
Pet
Pets & Dogs
Dogs and other pets can wreak havoc on traditional grass surfaces, but not with highly durable artificial pet turf from SYNLawn Tampa! Our soft, easy-to-clean synthetic pet grass is ideal for household pets and dog breeds of all shapes and sizes.
High-Quality Surfacing Solutions in Tampa, FL
At SYNLawn Tampa, we provide top-quality artificial grass sales and installations for residential and commercial properties in Tampa, FL. We offer some of the most realistic artificial turf products on the market – many of which even come equipped with specializations for pets, children, golf, and more. We also provide professional installation services to help ensure our SYNLawn synthetic grass will look stunning and hold up well as lawns, landscapes, and more. Find out more about our beautiful, low-maintenance synthetic turf by contacting us today!
Customer Testimonials
Read some testimonials from only a handful of our satisfied customers!
We are very pleased with SYNLawn and the turf! Our backyard needed a lot of help and the turf significantly elevates the landscape! SYNLawn was very professional and accommodating. We would definitely recommend them to others!
This company and these guys were wonderful, they were quick efficient neat and relatively quiet. They were very professional got the job done in a very effective manner. We are very pleased with the job. Needless to say, the pups are in heaven!
These guys are amazing- from the estimate process- communicating with the main office- the awesome professional crew that comes out – to finally the follow ups for ensuring satisfaction as well as the swift response for minor repairs- service has been top notch. Here to deliver a product along with a relationship of servicing the product and recommendations for prolonging the life and luster of the turf. – Liked them so much we asked them to come back and put in a paver patio resulting in another great job completed.
Benefits of Switching to SYNLawn Artificial Grass in Tampa, FL
Unlike traditional grass lawns and landscaping, our artificial grass provides Tampa Bay area home and business owners with countless benefits. Some of the many benefits of switching to our state-of-the-art synthetic turf products include:
Year-Round Beauty
No matter which of our amazing products you choose for your property, you can be assured that it will provide your home or business with year-round beauty. Artificial grass from SYNLawn Tampa never becomes overgrown, turns brown and patchy, or dies off. Instead, it retains a stunningly lush and green appearance throughout its long life, which can make you the envy of your neighborhood.
Low Maintenance
With our synthetic grass, there is little to no need for lawn maintenance. Unlike traditional grass, our artificial turf never needs to be trimmed with a lawn mower, watered with a sprinkler system, de-weeded, or treated with fertilizers and other chemicals. As a result, our synthetic turf helps home and business owners in Tampa, FL save time and money on their landscaping, making it a highly cost-effective investment!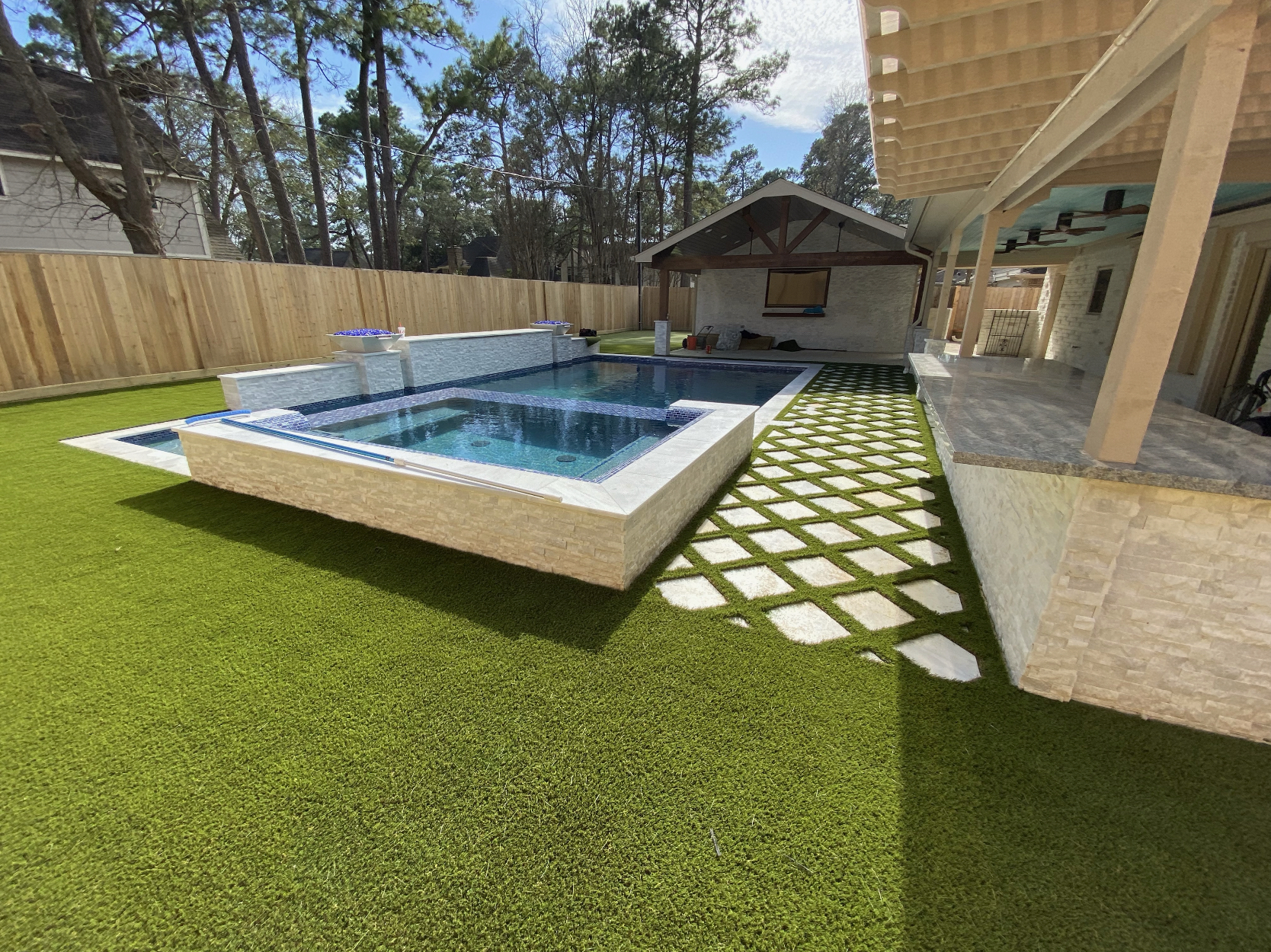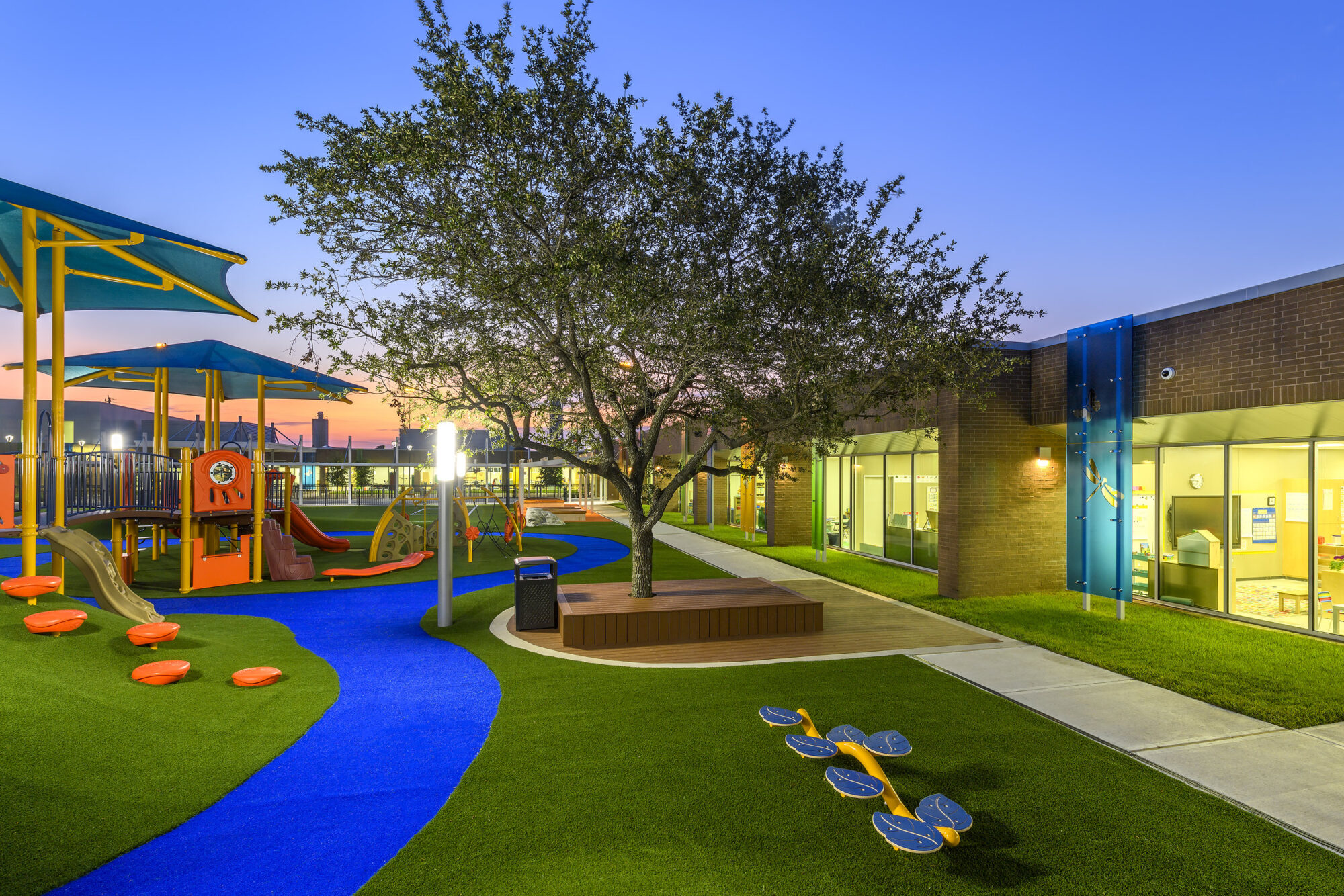 Durability
Artificial grass from us is also remarkably durable, especially when compared to other common landscaping surfaces. The synthetic build of our many artificial turf products helps them withstand several types of wear and tear, which includes high volumes of foot traffic, sports, lawn games, fading from the Sun, and more. As such, our synthetic lawns and landscapes last for years!
Child & Pet-Friendly Surfacing
At SYNLawn Tampa, our team understands the need for outdoor spaces that are child and pet-friendly. To address this, we offer two forms of artificial turf tailored to their specific needs: our playground turf and synthetic pet grass. Yet, any of our high-quality turf products can be beneficial for pets and children because they are soft, durable, and free from grass stains and conventional grass allergens.
Environmentally Friendly
Our artificial grass not only offers home and business owners in the Tampa Bay area benefits, but it also benefits our environment. By switching to synthetic turf, Tampa homes and businesses can conserve water, stop running their gas-powered lawn mowing equipment, and stop using lawn chemicals that can often poison the soil. In doing so, our artificial turf helps contribute to greener lawns and landscapes as well as a greener planet.
Why Choose SYNLawn Tampa?
At SYNLawn Tampa, we offer much needed artificial grass sales and installation services to homes and businesses in the Tampa Bay area. Our team has the training, experience, and high-quality synthetic surfacing products to provide properties with gorgeous green lawns, landscapes, and putting greens that not only impress but last for years. We are happy to put our artificial turf expertise to work for you and your residential or commercial property today!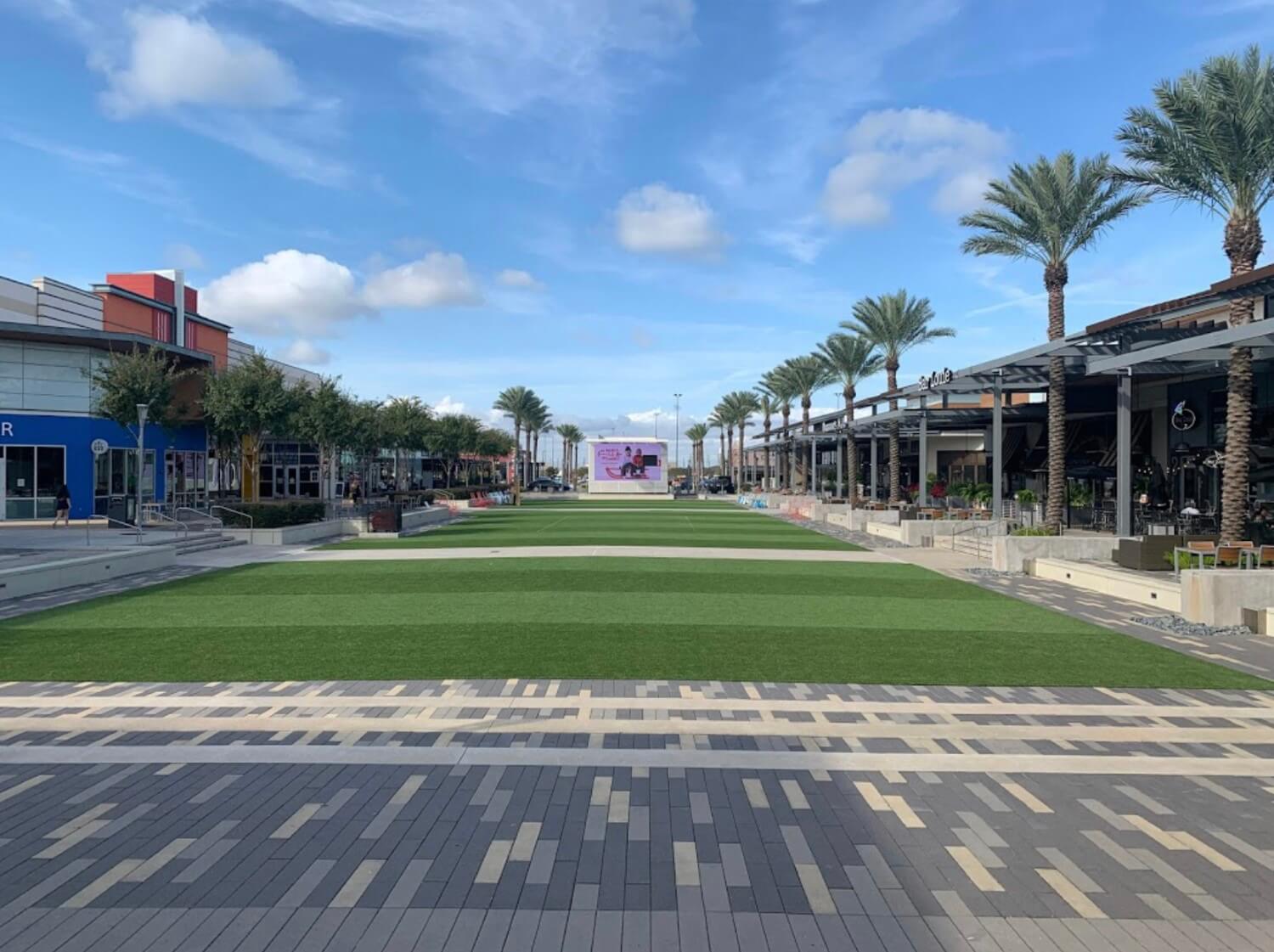 Artificial Grass for Residential & Commercial Applications in Tampa, FL
SYNLawn Tampa is the predominant artificial grass company serving the Tampa Bay area. With our experience in designing artificial grass for multiple applications, we are highly confident that we can help you with your artificial grass needs. Some of the most popular uses for our synthetic turf include:
Saving both time and money is a major reason why many people choose to have residential artificial grass installed for their home's front or backyard. With artificial grass from SYNLawn Tampa, you never need to bother mowing your lawn or watering the yard ever again.
Tampa homeowners appreciate how incredibly low maintenance our artificial grass really is!
Providing high-quality artificial grass to commercial businesses is something we excel at. A significant factor that differentiates SYNLawn from our competition is that we have complete control over the entire manufacturing process. Our company makes what we sell, which means top-notch quality in everything. As such, our commercial artificial grass is durable, safer, long-lasting, eco-friendly, striking to look at, and so much more.
Dealing with issues such as muddy paws, fleas, and grass stains can be a nightmare! You can make your yard or landscape much more enjoyable for both you and your pet with our artificial pet and dog turf. Our synthetic pet turf is safer, fast-draining, odor-resistant, and sturdy enough to handle any dog trying to dig through it. Our synthetic turf is also comfortable, so your pet will not even be able to tell that it is artificial surfacing.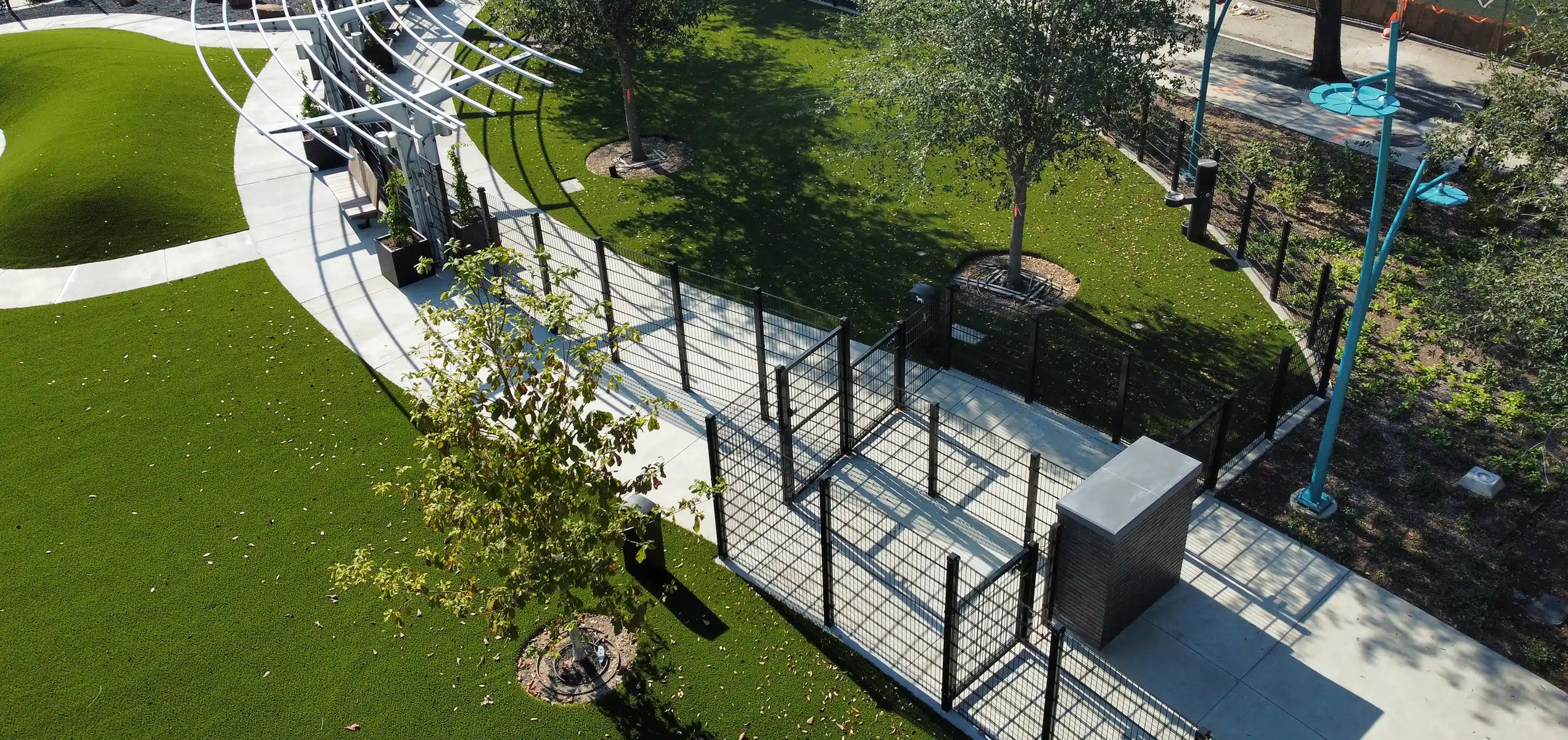 At SYNLawn Tampa, we offer specialized artificial golf grass to create unique putting green layouts for homes and businesses. No matter the size or scope of the golf green project you have in mind, we can help you plan it and build it! Our synthetic golf turf provides an optimized surface for putting. It also drains water fast, so stormy weather will not flood your golf greens and keep you from playing your favorite game. Latest News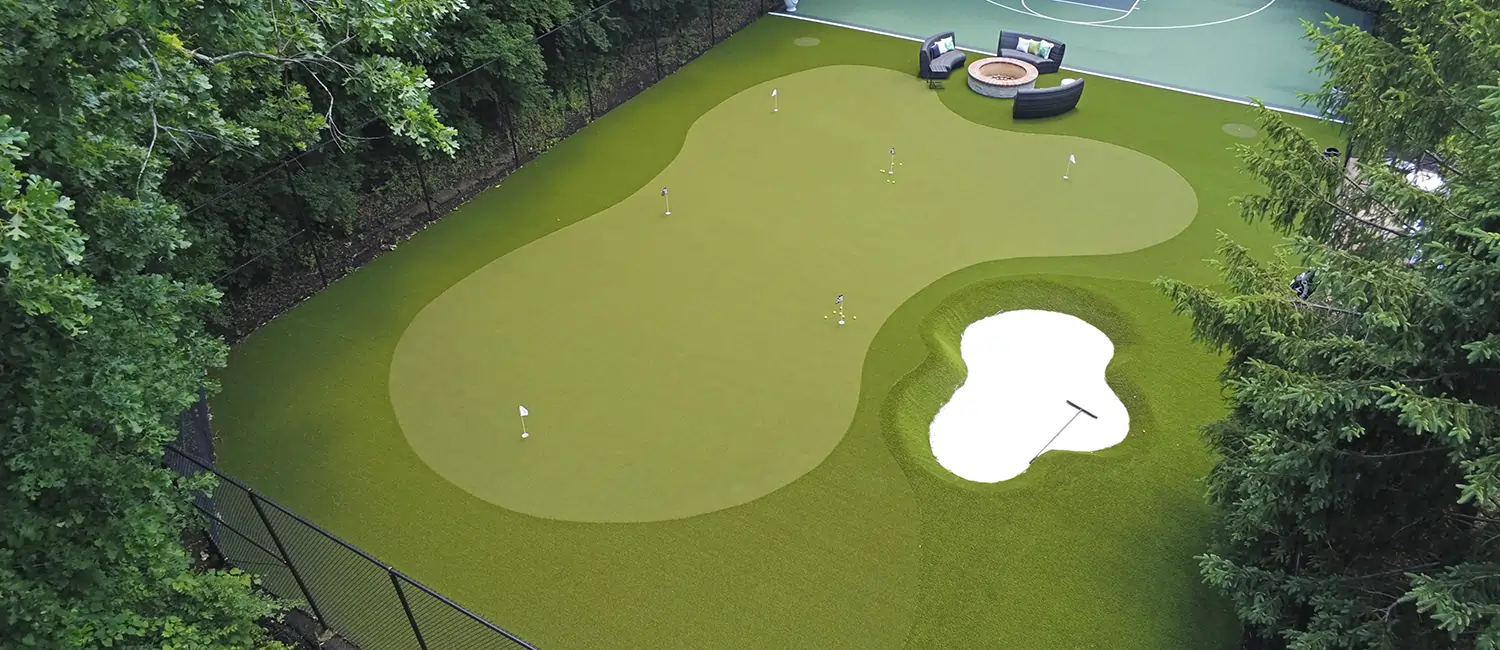 Backyard artificial grass putting greens from SYNLawn Tampa are a unique and exciting way to improve your short game and help make your backyard look perfectly trimmed all year in Tampa, FL.
For home and business owners tired of maintaining a traditional lawn in the unpredictable climate of Northeast Florida, the team from SYNLawn Tampa offers several artificial grass products that hold up well here in Tampa, FL.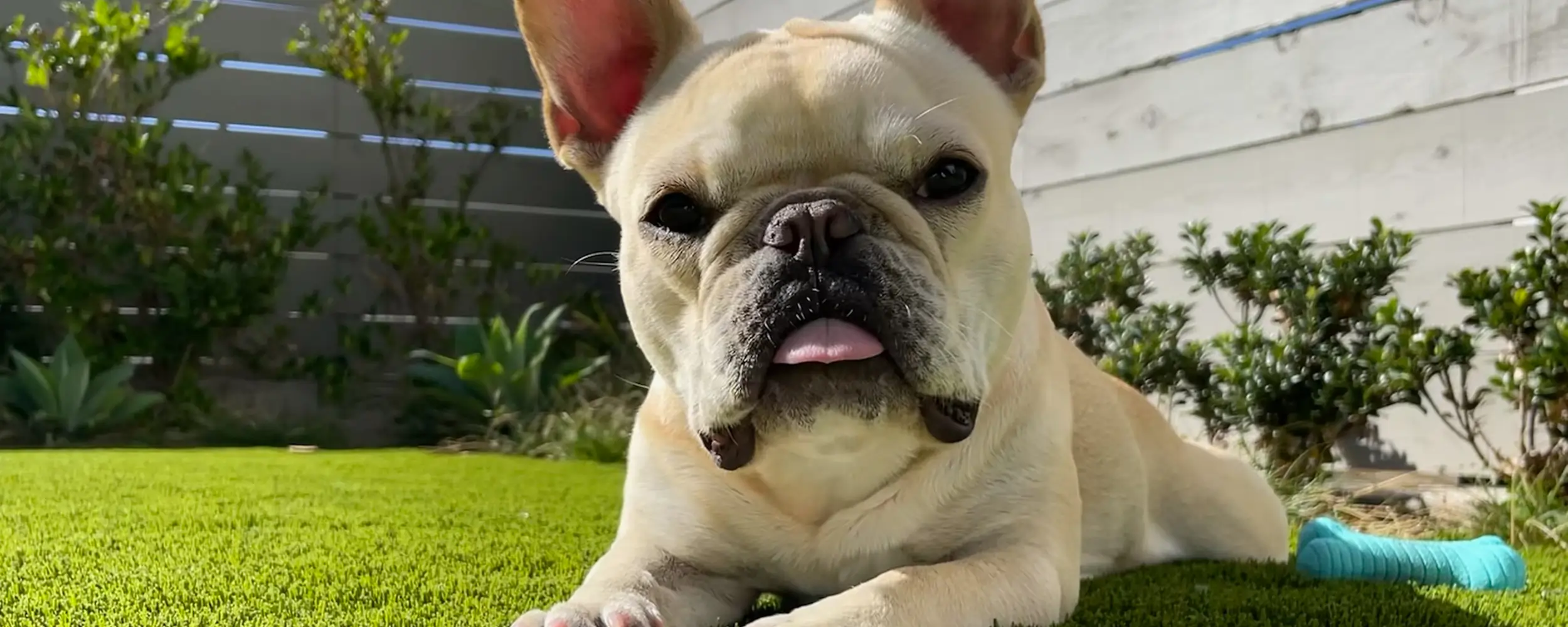 Here is a recent dog park project we were able to work hand in hand with Bandes Construction Company on. As pet owners, we all want our furry friends to have a safe and comfortable space to play and exercise. That's why we were thrilled to recently complete an installation of SynLawn artificial grass at a Subaru car dealership in Wesley Chapel. Our Pet Platinum turf is the perfect solution for creating a pet-friendly dog park area that looks great year-round and stands up to heavy use.
Communities We Serve
At SYNLawn Tampa, we provide artificial grass supply, design, and installation to communities in the entire Tampa area, including:
Palmetto
Zephyrhills
Ruskin
Egypt Lake-Leto
Temple Terrace
Lake Magdalene
Mango
Citrus Park
Bloomingdale
Lutz
Oldsmar
Safety Harbor
Pinellas Park
East Lake
Dunedin
Largo