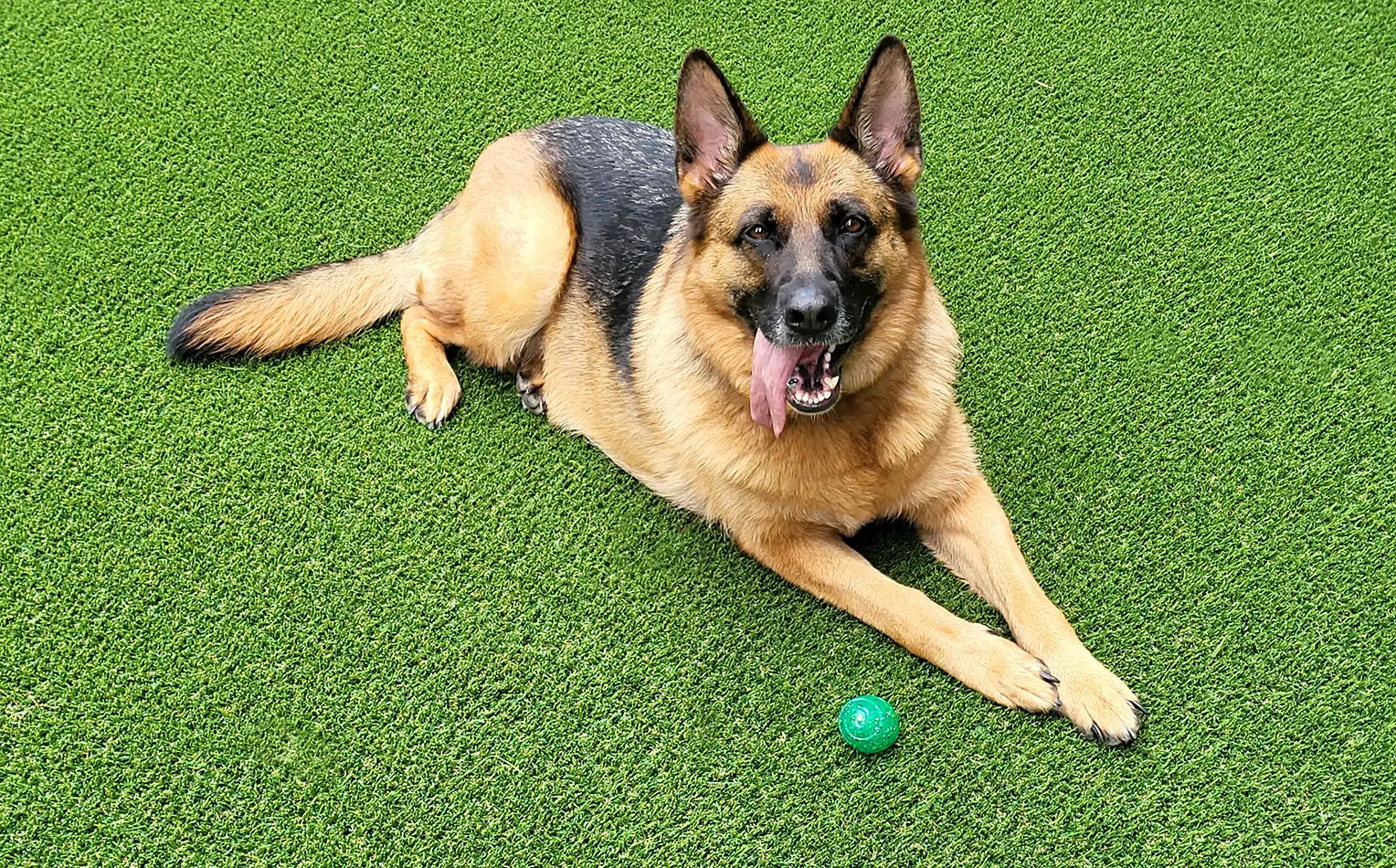 SYNLawn recognizes that pet owners and pets have specific needs for the Tampa pet turf they have installed. That is why we manufacture pet turf systems that look after the health and safety of your pets as well as allow you to enjoy a stunning and lush luxury lawn year-round. SYNLawn Tampa pet grass alleviates the hassle of traditional maintenance, so you can spend more time with your pet and enjoy your landscape. Whether you have a destructive dog that likes to dig or want a lawn that offers unmatched stain and odor resistance, we bring you the most capable pet grass Tampa offers.
SYNLawn Tampa artificial grass for pets is instilled with more than 50 years of research and development. Our turf solutions include a variety of exclusive technologies not found anywhere else in the industry. These innovations further the longevity of our turf and make for a more habitable landscape for your pet. SYNLawn Tampa pet turf utilizes our first-of-its-kind Super Yarn formula. This yarn technology incorporates antimicrobial, IR-reflective, and anti-static components. In addition, your landscape will always remain comfortable with our proprietary HeatBlock technology. HeatBlock is scientifically proven to keep surface temperatures up to 20% cooler to prevent burned paws by inhibiting heat buildup.
Superior Drainage with SYNLawn Tampa Pet Turf
Finding mud in the house is not a favorite moment for homeowners. We know our pets don't have ill intent; however, we aren't in a hurry to have to clean it up. With EnviroLoc+™ this is no longer an issue. EnviroLoc+ is our plant-based backing system that locks in turf fibers and features a porous body to increase drainage. This is called SuperDrain+™. SuperDrain+ provides a maximum drainage rate of up to 1,200 inches per hour. This is 40 times greater than the highest recorded rainfall in the USA. With SuperDrain+, you will never have to worry about muddy paws, flooded grass, or algae buildup.
Pets Stay Clean with SYNLawn®
Do you worry that your pet is going to come in with pests under their fur? Or that they may get into bacteria that are harmful to their health? Fortunately, we utilize the highly effective antimicrobial Sanitized®, which eliminates up to 99% of bacteria from turf surfaces. Sanitized® will also keep fleas and ticks at bay and reduce allergens found in algae that will aggravate the respiratory system. Additionally, we offer Envirofill® infill for your installation. Envirofill® is an acrylic sand infill that controls pet odors and stains with antimicrobial properties. With SYNLawn, you say goodbye to odors, stains, grass stains, and more.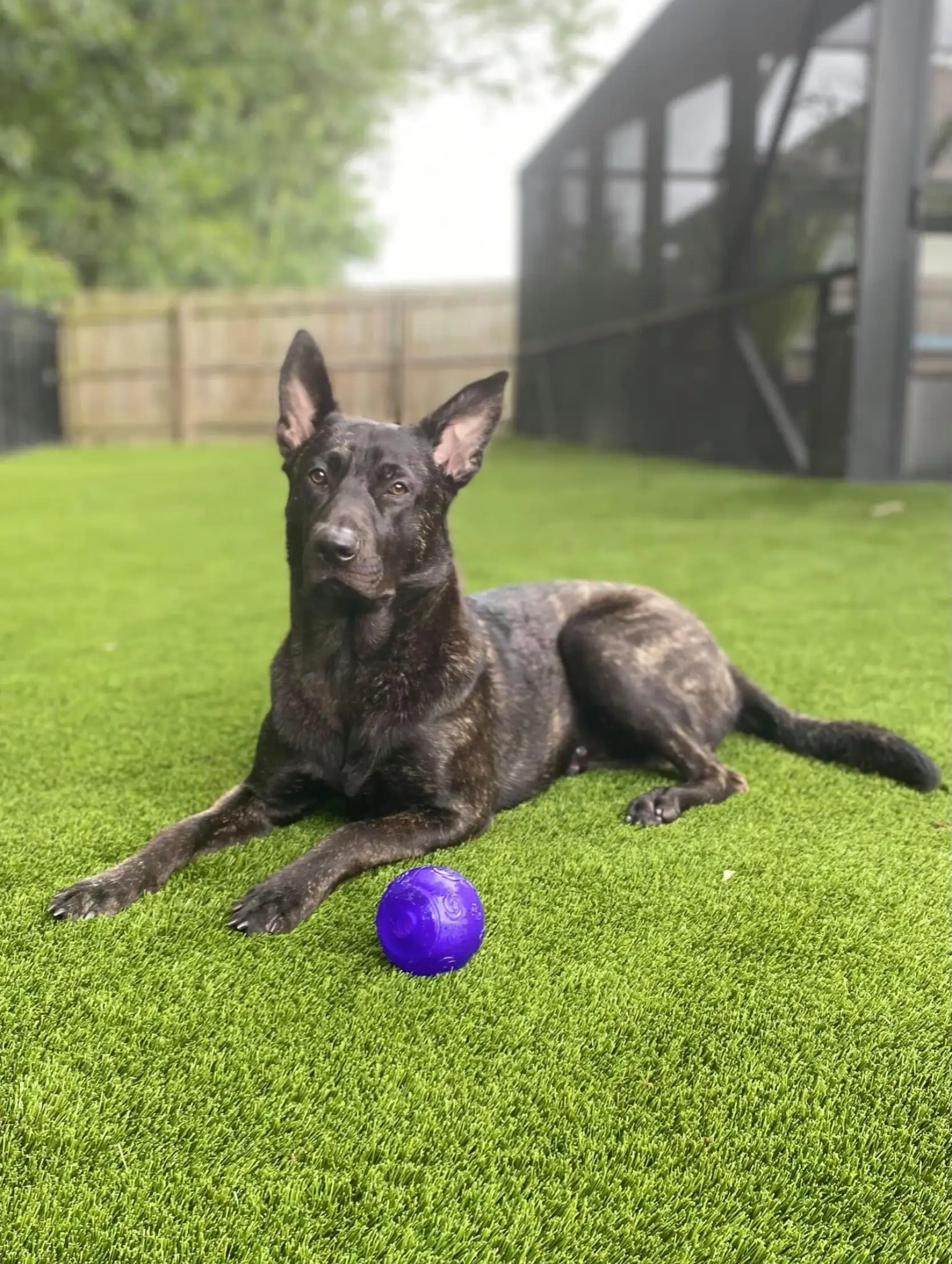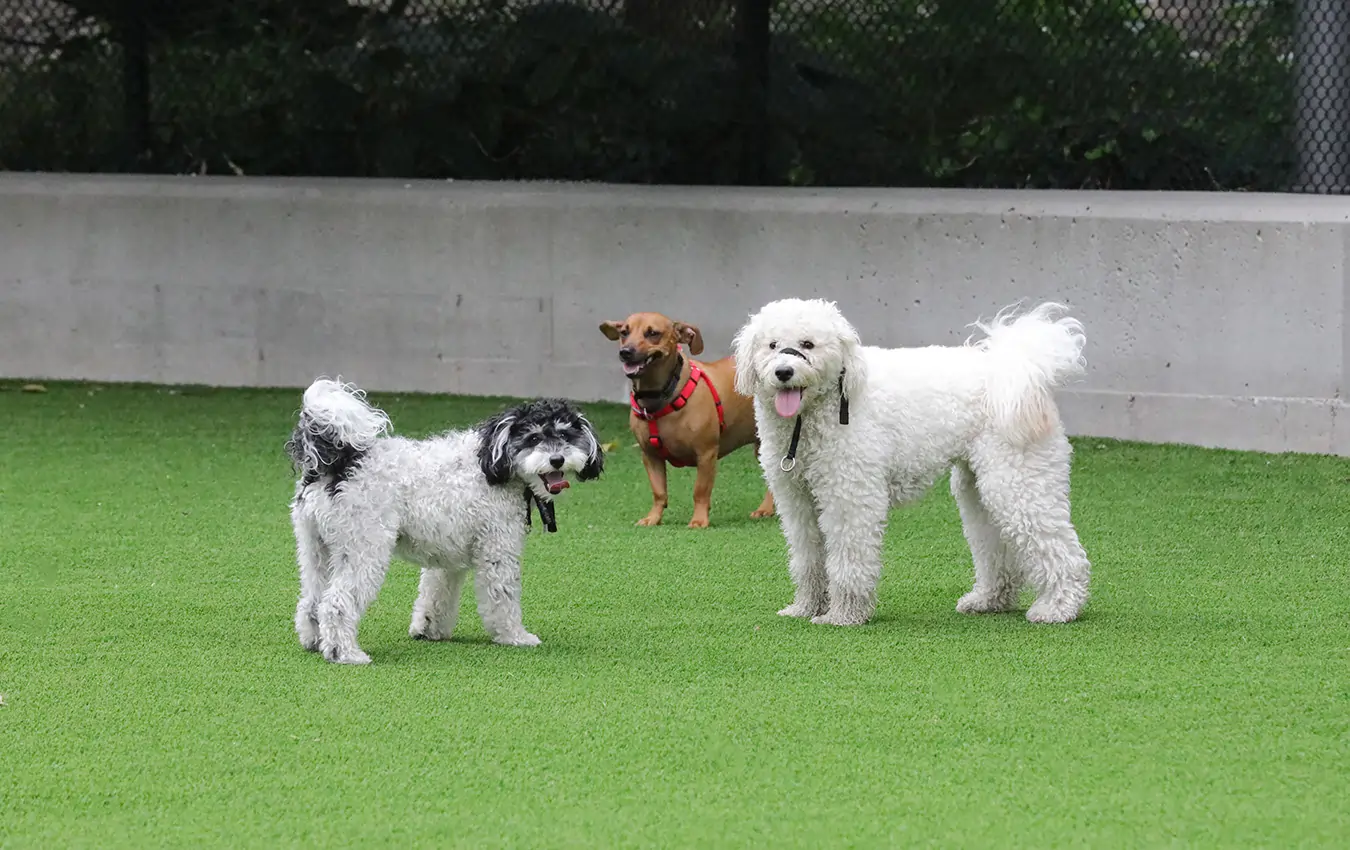 The Most Eco-Friendly Pet Turf Tampa Has to Offer
SYNLawn prioritizes environmental sustainability because we believe that artificial grass should do more than just eliminate lawn care. That is why we became the first company to manufacture plant-based pet turf systems. This is accomplished thanks to our close partnership with US farmers. With their help, we can replace more than 60% of petroleum-based materials in our manufacturing with components derived from sugar cane and soybean oil. These renewable materials increase the longevity of your installation, help conserve up to 50-70% of your monthly water usage, reduce carbon emissions, and prevent our synthetic pet turf from ending up in a landfill.