Bring your love of bocce ball home with Tampa bocce ball court turf from SYNLawn. We have combined the ultra-realistic appearances and behaviors of our artificial turf with the authentic performance and durability of professional-grade bocce courts. With a precise ball roll, natural bounce, outstanding drainage, and low maintenance requirements, we have created the best surface for bocce ball courts. It is the best choice for all ages and skill levels because of its exceptional stability and aesthetic appeal.
The Benefits of SYNPro Bocce
For fans of bocce, SYNLawn's special court system is called SYNPro Bocce. Constructed with an aggregate foundation atop a layer of concrete, it offers constant texturing without losing performance. Your Tampa bocce court will also be playable after rain thanks to its one-degree pitch and optimal drainage. Additionally, our ground-breaking artificial grass offers a variety of bumper boards and is spot glued with certified commercial adhesives for increased longevity. Additionally, SYNPro Bocce meets IPEMA certification to guard against common injuries and abrasions as well as protect from falls of up to 10 feet.
Benefits include:
Consistent ball roll with minimal bounce
Dust-free with no watering required
Excellent drainage
Near immediate use after rain
Can be shoveled after snow
ADA compliant
IPEMA certified
Made in the USA
SYNPro bocce is constructed of 100% UV-stabilized nylon fibers that resist fading and reflected light. It is also backed by our unparalleled, limited lifetime warranty. Your bocce court will remain lush and vivid all year, becoming your new favorite location to hang out with friends and family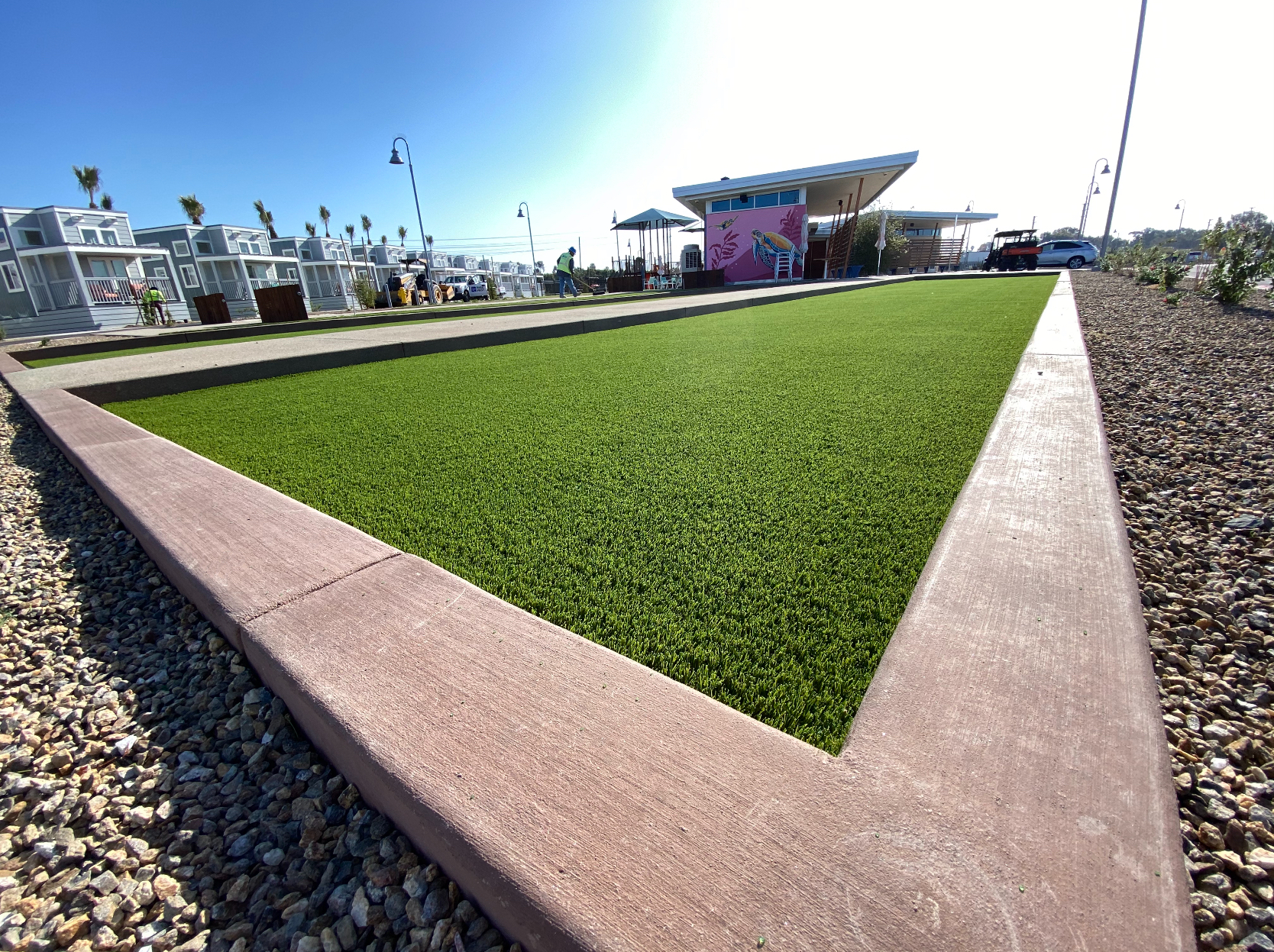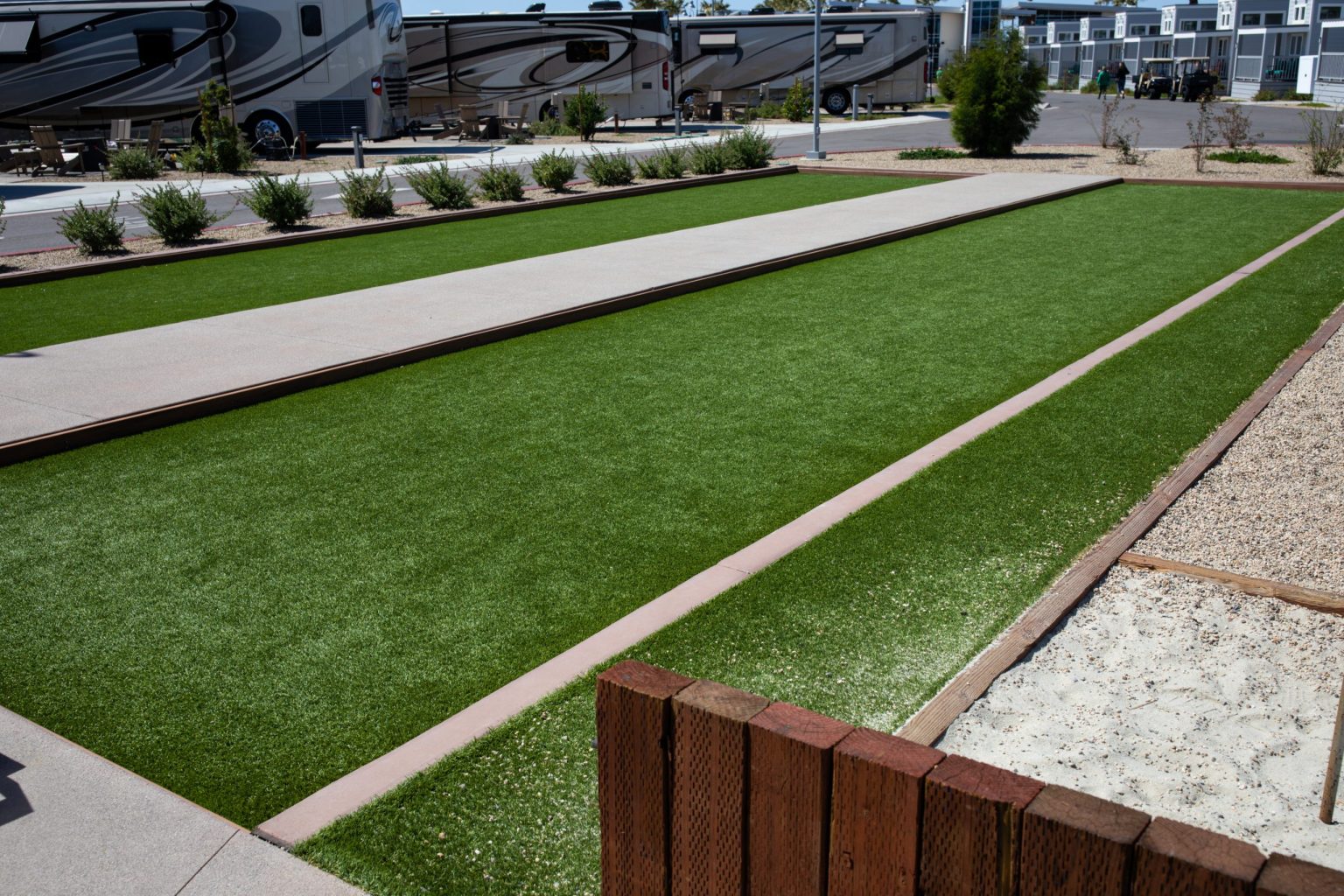 Exclusive SYNLawn® Technologies Enhance Your Bocce Ball Court Experience
SYNLawn has instilled more than 50 years of research and development into innovating artificial turf. As a result, our turf solutions include a growing list of exclusive technologies that cannot be found elsewhere in our industry.
HeatBlock™ Technology
HeatBlock makes comfort a reality year-round. In warmer and primarily sunny climates, keeping your court cool can seem close to impossible. HeatBlock actively combats heat emissivity (the measure of an object's ability to emit infrared energy) and inhibits your court's ability to absorb heat. It is scientifically proven to keep Tampa bocce ball court turf up to 20% cooler than any other synthetic turf available. Additionally, surfaces with HeatBlock provide less shimmer, which enhances the realism of your installation.
EnviroLoc+™ Plant-Based Backing System
Part of what makes SYNLawn bocce ball court systems and artificial turf special is their plant-based design. EnviroLoc+ backing includes 60% of the plant components that make up our synthetic grass. It replaces harmful petroleum polyols with soybean oil, making it recyclable and renewable for future installation. In addition, EnviroLoc+ "locks in" turf fibers to prevent shedding. This means that even if your pup makes its way into the backyard, it will not be able to dig through your court, saving you money on costly repairs. Finally, our proprietary backing has a porous body that allows for a maximum drainage rate of up to 1,200 inches per hour. This is 40 times greater than the highest recorded rainfall here in the USA.
For more than 20 years, SYNLawn has explored the possibilities of Tampa artificial turf and the applications it can accommodate. We are happy to work closely with our customers to bring their designs to life and ensure their satisfaction. We offer the highest quality artificial grass Tampa has to offer, the most meticulous installations, and payment plans to fit any budget. To learn more about Tampa bocce ball court systems and all our services, contact SYNLawn today to schedule your free consultation!