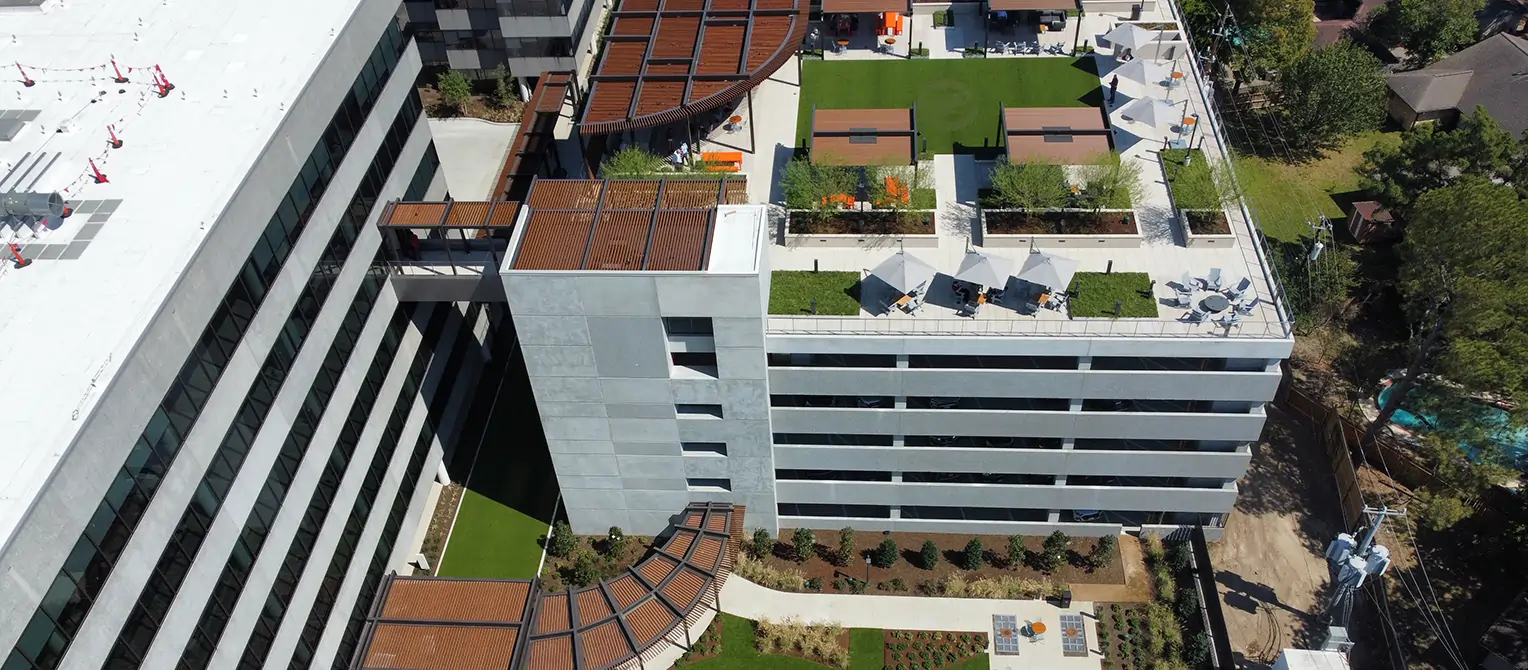 ---
SYNLawn is proud to offer its next venture in innovating the artificial grass industry. Introducing our state-of-the-art architectural kit. With more than 50 years of research and development behind us, we can offer the most advanced turf technology, collaborate with US soy farmers to produce the most environmentally friendly products, and supply goods that adhere to the strictest safety regulations.
The SYNLawn architect kit is fitted with everything you need to get started when you're ready to design your next commercial or residential installation. It allows you to choose from some of our best samples to ensure you get exactly what you're looking for to bring your ideas to life.
Tampa artificial grass is utilized for a variety of applications by commercial property managers. The biggest benefit is the time and money they can save and invest in expanding their company. Business owners can prioritize their clients and services first rather than paying expensive water bills or investing in lawn equipment. Offering our free architectural kit makes it simple for business owners to reduce their alternatives and select the best solution for their surroundings.
Who Provides the Best Tampa, FL Artificial Grass
The answer is very simple: SYNLawn! We have more than 20 years of experience in the artificial turf industry and have developed turf solutions that accommodate a comprehensive list of applications. We work with restaurants, hotels, apartment complexes, schools, retail locations, sports facilities, hospitality, municipalities, and many others. SYNLawn is fully licensed and insured and utilizes large teams of highly qualified Tampa turf installers who can handle multi-million-dollar projects from start to finish.
In addition, SYNLawn Tampa synthetic turf includes exclusive technologies and benefits. SYNLawn synthetic grass is manufactured with a first-of-its-kind yarn formula, Super Yarn™ technology. This powerful technology combines antimicrobial, anti-static, and IR-reflective components into a single yarn formula. Next, our EnviroLoc+ backing system locks in turf fibers to prevent turf fibers from shedding. Furthermore, Super Drain+ technology provides an unmatched drainage rate of up to 1,200 inches per hour. Finally, HeatBlock™ technology combats heat buildup and keeps surfaces up to 20% cooler than any other turf brand on the market. Combined, we provide the strongest, most realistic, functional, and coolest artificial turf Tampa has to offer.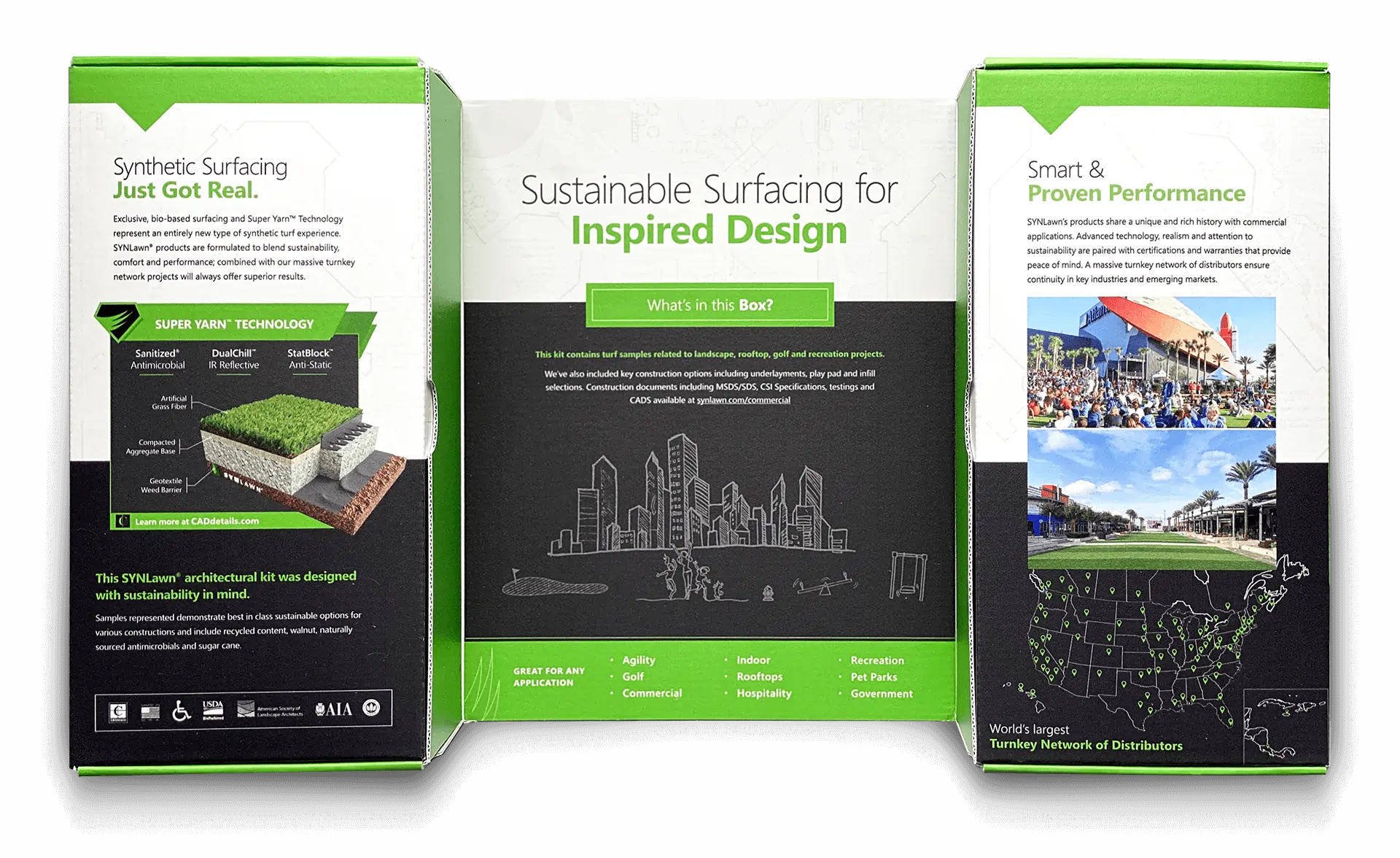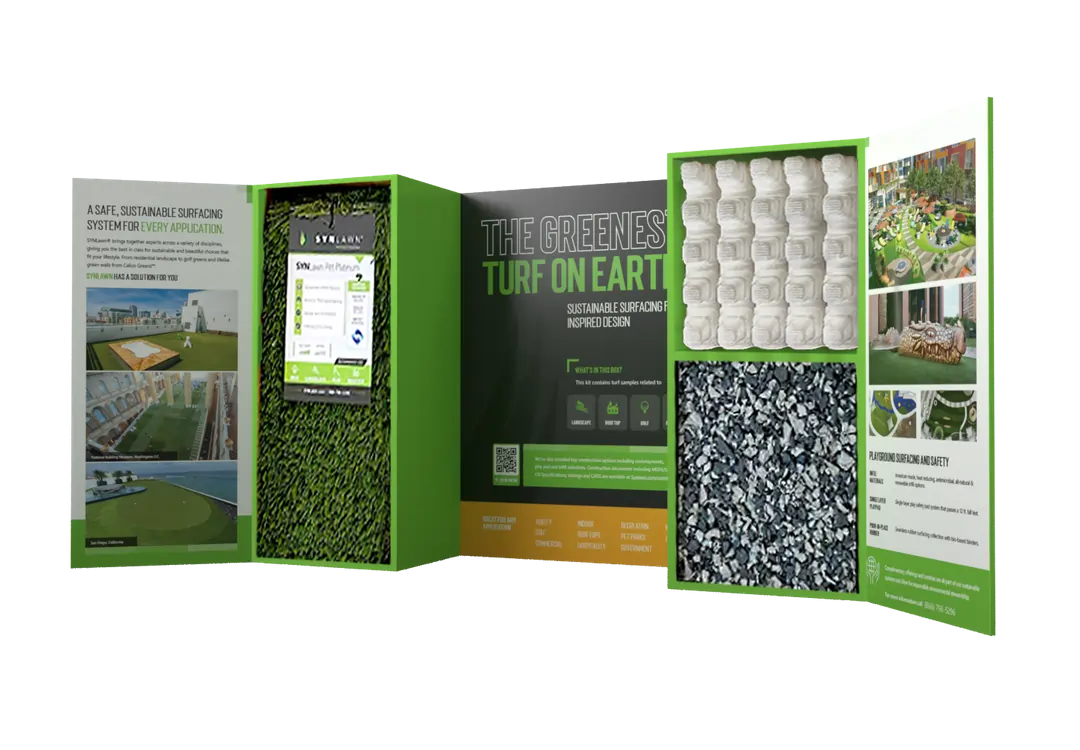 Unmatched Safety Standards
Any landscape designer or architect who is working on a new project understands the importance of safety. Fortunately, SYNLawn was the first company to recognize the need for IPEMA-certified synthetic turf. We offer slip-resistant surfaces that are laboratory-tested to prevent injuries and meet proper fall height attenuations. We aim to provide grass alternatives that meet the highest commercial safety standards, allow for wheelchair access, and cushions falls up to 10 feet.
Furthermore, SYNLawn offers a collection of artificial turf options that bring fire safety to a new level. We are proud to offer turf that is Class A fire-rated and is proven to prevent the spread of fires. To achieve this, our synthetic grass had to pass eight unique burn tests to be qualified. Class A fire-rated synthetic grass is proven to slow burns and simply melt and then blacken to protect your property from major destruction and life-threatening injuries.
Get Your FREE Architectural Kit Today!
SYNLawn is certain to become your go-to source for artificial grass in Tampa, FL, and your projects for years to come. We can provide you with samples, lunch and learns for continuing education session and more. We enjoy getting to know our clients so that we can fulfill their needs. We are committed to making your vision a reality. In addition, architects will gain access to our CAD information and receive credits for their ongoing education in areas like HSW (Health, Safety, and Wellness) and the STC CTI-L program.
Here's a look into what is included with your Architectural Kit.
SYNLawn® Turf
Infill Systems
Nailer Board
Air Drain
Melos Stone
Brock Playground Padding
Fire-Rated UltraBase for Rooftop Installations
Commercial Brochure