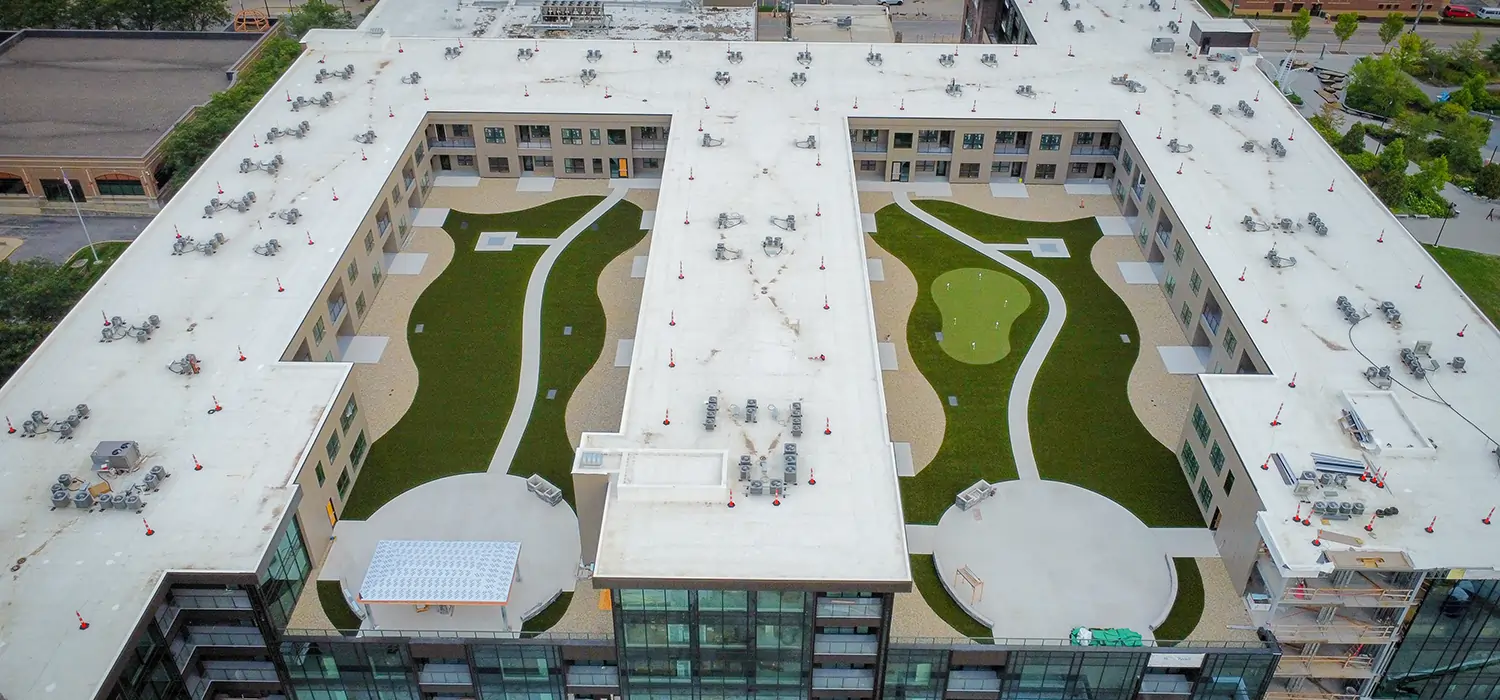 Here at SYNLawn, we are always looking to accommodate new applications for Tampa artificial grass. We recognize that there are a lot of business owners who have underutilized or awkward spaces on their rooftops, decks, or patios that can be easily filled with artificial turf. Restaurants, shopping centers, bars, parking garages, and so many more can benefit from the ultra-realistic appearance and high quality of SYNLawn Tampa synthetic grass. We have more than 20 years of experience expertly and meticulously installing artificial turf for our commercial customers. SYNLawn is licensed, insured, and bonded to complete projects of every size from small lawns to multi-million-dollar projects and will work diligently to ensure that you don't lose valuable time with your customers.
Benefits include, but are not limited to:
Super Yarn™ fifth-generation yarn formula; the most technologically advanced turf yarn on the market, combines DualChill, Sanitized®, and StatBlock at the molecular level
DualChill™ IR Reflective Technology helps keep turf fibers from fading in direct sunlight
Sanitized™ antimicrobial eliminates up to 99% of bacteria and prevents the growth of mold and mildew
StatBlock™ carbon-based anti-static prevents the accumulation of static electricity
EnviroLoc+™ eco-friendly backing system locks in turf fibers and prevents fungal and algae growth, also the Sanitized antimicrobial enhancement
SuperDrain+™ provides a maximum drainage rate of up to 1,200 inches per hour
UV-stabilized yarns that resist fading year-round and maintains realistic color pigments
Built to withstand heavy foot traffic and high activity children and pets
Made in the United States and manufactured with recyclable materials
Low-maintenance and Eco-Friendly Artificial Turf in Tampa, FL
The beauty of Tampa artificial grass isn't only in its appearance. SYNLawn turf provides our customers the opportunity to eliminate traditional maintenance, save customers time and money, and reap the numerous other benefits found with our exclusive turf technologies.
If you are a business owner, you know that there isn't always time or budget for lawn care. You are busy running kitchens, managing stores, crafting cocktails, and so much more. Tampa artificial turf does not need to be watered, mowed, or reseeded. As a result, we can save you up to 70% on your monthly water bills and reduce up to 90 pounds of carbon each year from lawn equipment. This is due to our close partnership with American farmers. We are the first and only company to offer synthetic grass made with plant-based materials. We want your customers and employees to enjoy the beautiful grass on the patio, roof, or deck of your place of business, share their experience with their friends, and recommend your business. SYNLawn can transform your space into someone's new favorite after-work gathering space or favorite outdoor employee lounge area.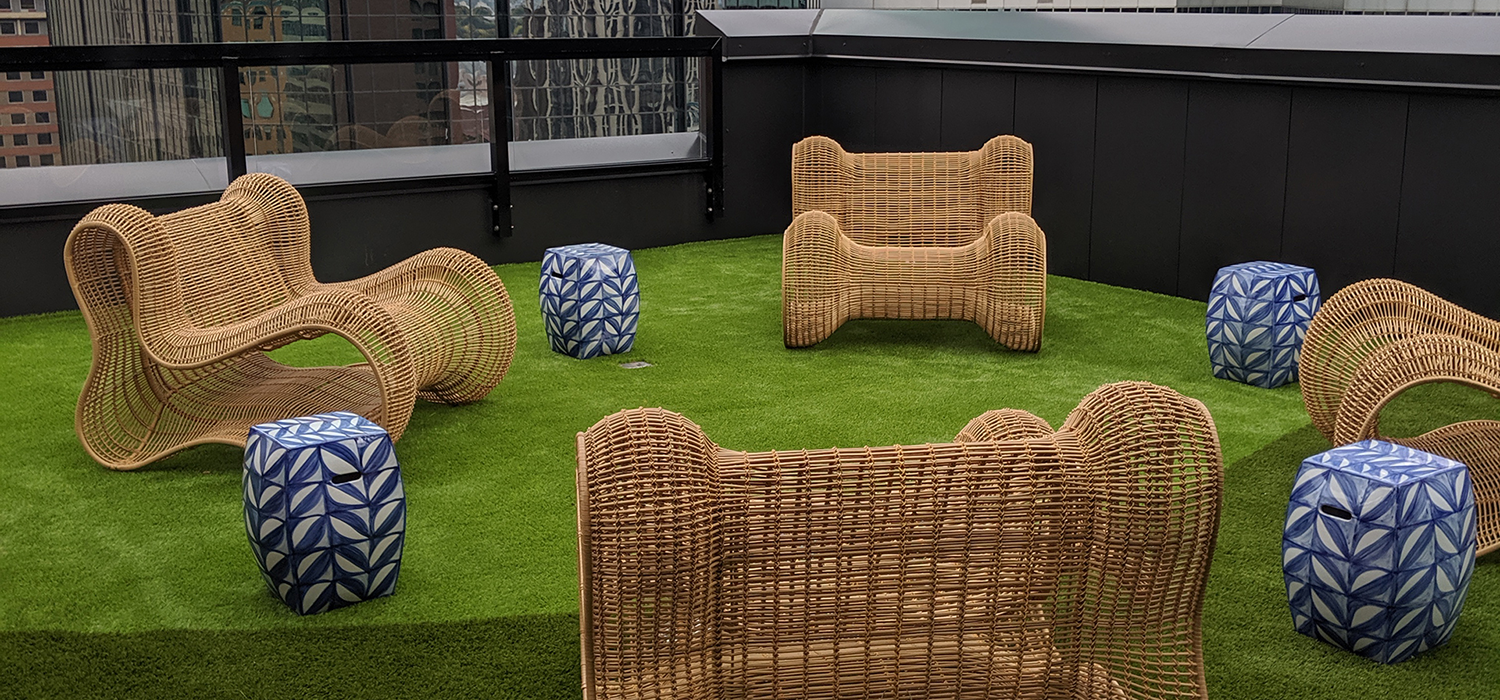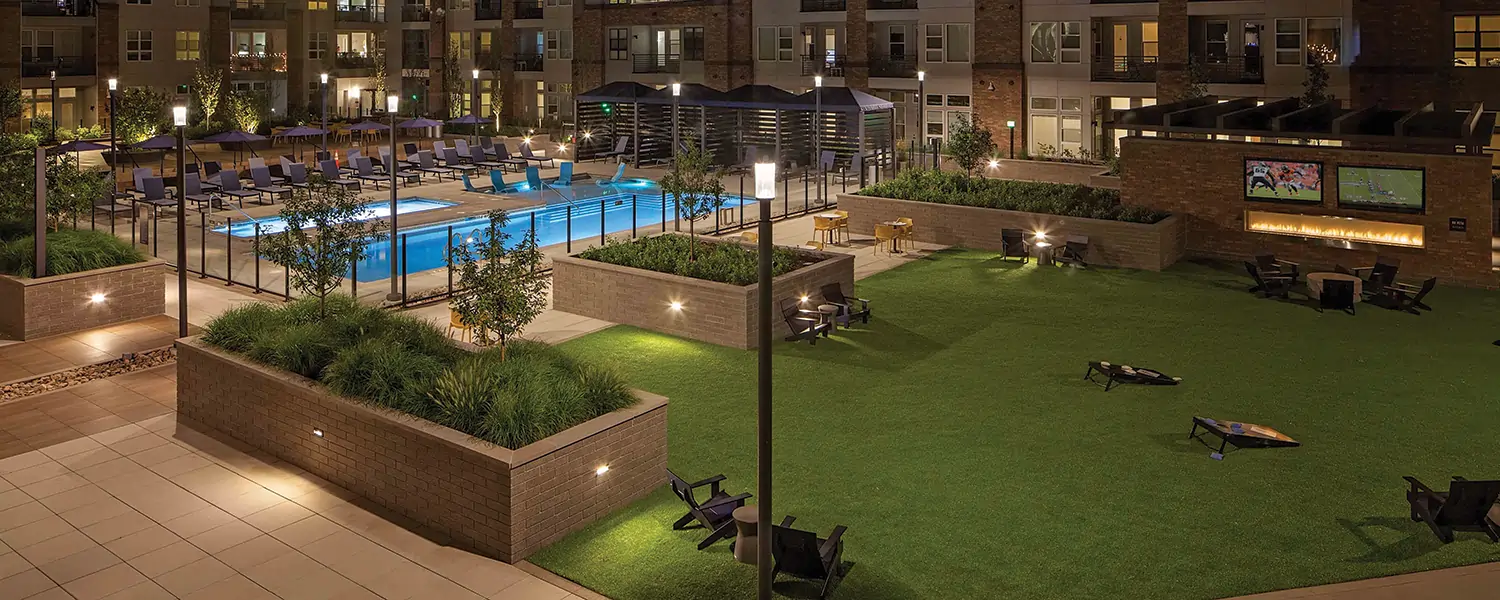 Tampa Synthetic Turf Meets Commercial Safety Standards
There is nothing more important in a commercial landscape than safety. For this reason, we test and develop our Tampa synthetic turf to meet the highest standards. We provide slip-resistant surfaces that will not shift on impact and meet proper fall height attenuations. We independently laboratory test our artificial turf to protect against falls up to 10 feet and meet HIC (Head Injury Criteria). We are proudly IPEMA, CSA, and ADA certified to help prevent common injuries and keep safety concerns off your mind when you invite customers to visit your property. This is especially important for rooftop playgrounds or athletic amenities.
Avoiding the heat in the summer can be challenging. However, with the addition of our exclusive HeatBlock technology, you can enjoy up to 20% cooler surfaces than competing brands even during the warmest seasons of the year. This allows kids to play barefoot and prevents dogs from burning their paws. HeatBlock drastically reduces the heat that emits from our turf, which is a very rare feat for conventional fake grass in Tampa.
Protection Against Fires
Of course, the place of business must abide by fire safety protocols. At SYNLawn, we want you to feel protected in every environment. We are proud to offer a growing collection of ASTM Class A fire-rated synthetic grass. This is the highest rating a surface material can receive and is how we prove that our synthetic turf can slow the spread of fires. We test our turf to ensure that it will blacken and melt rather than fuel accidental fires and create chaos. Our goal is to reduce extreme property damage and prevent potentially fatal injuries.